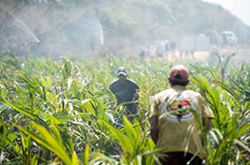 (PRWEB) November 23, 2014
By the end of 2015 Liquid Investments' plantations, Fazenda Palmeira Grande, Fazenda Santa Rita and Fazenda Lagoa Grande, will comprise 85,000 coconut palms across 650 hectares of sandy and nutrient-rich soil, located 75 miles north of Fortaleza, Brazil.
For more information on Liquid's investment opportunities in Brazil, see their 'Why Agri, Why Brazil, Why Now' report and their 'Coconut Investment Guide'.
Coconut based products are high in demand across both developed and developing markets for numerous consumer-based applications and health benefits. Coconut water sales hit $1 billion in 2013, and have doubled each year over the past four years. The activated carbon market (sourced from the coconut shell) is forecast to grow by 67% to $3 billion by 2017, with an annualized rate of growth at 10.5% each year.
Fazenda Palmeira Grande is a Liquid-owned project just outside Flecheiras, and is part of a 1,100-hectare plantation. Planting in phase two is well underway with 64,000 saplings scheduled for transfer to the plantation in early 2015. These saplings will become productive within 18-24 months.
Fazenda Lagoa Grande is another Liquid plantation set to cover 234 hectares with Dwarf Coconut Trees when completed. Already sold out, it is producing an average of 160 coconuts per tree per year. The latest generation of trees just planted will bear in excess of 200 coconuts per tree.
Fazenda Santa Rita comprises 100 hectares of existing coconut plantation, forming part of a 1,500 hectare farm owned by Cohibra, Brazil's leading coconut plantation management company and Liquid's specialist partners. The established, fully operational and state-of-the-art plantation is populated with Cohibra's very own hybrid palms. These are 20 years old, at peak productivity, and producing well over 140 coconuts per tree per year.
An investment in coconuts throws off a number of opportunities, appealing to a range of different sectors. There is strong evidence that the oil encompasses anti-bacterial, anti-fungal, anti-microbial and anti-viral features, helping to maintain a healthy body.
Another exciting area of study is focused on the positive effects of coconut oil and its derivatives in the fight against Alzheimer's Disease, Multiple Sclerosis, Diabetes, Dementia and Autism.
For further information on Liquid's Agri real estate projects, visit our homepage. If you would like to get in contact with one of our investment consultants, simply request a call-back.
Note to Editors:
Liquid Investments is a provider of global investment solutions allowing institutional and private investors the opportunity to accumulate wealth through safe and secure alternative investments in emerging markets.
Founded in 2006, the organisation is headquartered in Knightsbridge, London and with an office in Fortaleza, Brazil.
For further information:
Jayshree Badhan, Chief Marketing Officer – Jayshree.Badhan(at)liquid-investments(dot)com