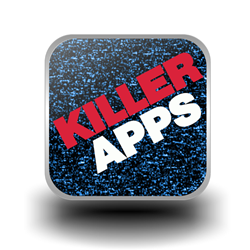 These five hot tech items are sure to make memorable gifts for someone on their list
West Palm Beach, FL (PRWEB) November 24, 2014
According to the Consumer Electronic Association's holiday outlook, total tech spending during the holidays will reach a record $33.76 billion during the 2014 holiday season. But with so many tech gift options, it can be tough to decide what to buy.
News Media Group recently completed a satellite media tour with Tech Expert Andrea Smith, where she shared her ideas for great tech gifts that would even make Santa jealous. The tour is featured on the tech website http://www.KillerApps.TV.
"I worked with these brands on the tour to help viewers save time while holiday shopping," said Andrea. "These five hot tech items are sure to make memorable gifts for someone on their list."
Here are some of Andrea's gift ideas for the holidays:
With tech at the top of everyone's lists, there are tons of great deals on some of this year's biggest must-haves at "Your Holiday Workshop" destinations, Office Depot and OfficeMax. From November 27-29, shoppers can get $120 off the HP Pavilion x2 plus a one-year subscription of Microsoft Office 365 Personal at Office Depot and OfficeMax stores or online while supplies last. Ultra-portable with a detachable keyboard and integrated soft cover, the HP Pavilion x2 transforms from a tablet to a notebook in a snap. With the power of Windows 8.1 and a battery that lasts up to 11 hours and 45 minutes for HD video playback, this 2-in-1 has serious staying power that takes one from work to play without missing a beat. For more Black Friday deals including the ad, visit http://www.officedepot.com/blackfriday.
The Livescribe 3 smartpen looks like a fountain pen but does so much more by combining the iconic style of a Moleskine notebook with the digital power of an iPhone or iPad. Users can take notes naturally with real ink on real paper, and turn those notes into digital text, contacts, reminders and more with the Livescribe+ app, making notes more useful than ever before. Notes can be linked with audio recordings to make it easy to replay exactly what someone said, and handwriting can be searched instantly for the ultimate marriage of analog and digital. Visit http://www.livescribe.com for more information.
Samsung's HU9000 Curved UHD TV delivers a bold theatrical experience and fundamentally changes the way the world views TVs. The curved screen gives videos a presence not felt on flat screens, plus, a wider field of view creates a panoramic effect that makes the display seem even bigger than it is and draws viewers in like no TV has ever done before. With four times the resolution and pixels of Full HD, these UHD TVs provide unsurpassed picture quality. UHD sources look spectacular in crisp 4K resolution on Samsung UHD TVs. From virtually any viewing position or angle, the curved design creates a more true-to-life experience so everyone watching has the best seat in the house. Visit http://www.samsung.com/us/video/tvs/UN55HU9000FXZA for more information.
The Intel-powered ASUS PadFone X mini is a 4.5" LTE smartphone that converts into a 7" LTE tablet when docked into the companion tablet docking station. This innovative design gives the best of both worlds in one device – all of this for just $199.99. It is the first smartphone in the U.S. to have both an Intel processor and an Intel LTE modem, giving blazing fast Web browsing capabilities and a long battery life. It is available on AT&T's GoPhone network, a no contract, prepaid service. Visit http://www.att.com/PadFoneXmini for more information.
Martian Watches is a designer and developer of unique smartwatches that keep style as the first priority and add pioneering technologies and features that are useful in most everyone's lives. After creating the world's first voice command watch last year, they have now introduced Smart Notifications for 1000s of popular iPhone and Android smartphone apps, which allows the user to give notifications different vibration patterns and/or eliminate certain notifications coming to the watch altogether. Their developing partnership with GUESS Watches will also help expand the reach of beautiful "watches that are smart" into the tech and fashion worlds. With a Martian Watch, one will never miss another moment. On sale through the Holidays for $99 (regular retail $129) Purchase online at http://www.martianwatches.com/notifier/shop/
For more information about all of the featured products, visit http://www.KillerApps.TV.
About News Media Group Inc.
Founded in 2009, News Media Group Inc. (NMG) produces original television and radio programming with industry experts and celebrities that help public relations professionals gain media exposure for their brands and clients. Based in West Palm Beach, Fla., with studio locations in South Florida, New York and Los Angeles, News Media Group is a leader in organizing and producing high profile Co-Op and Exclusive Satellite Media Tours (SMTs), Radio Media Tours (RMTs) and Ground In-Studio Media Tours (GMT's) throughout the year with Fortune 500 and other leading companies and public relations agencies. NMG shares these trends with consumers through its technology website, KillerApps.TV, and its consumer lifestyle website, InTheNews.TV and their "What's #Trending Now" segments. Visit http://www.newsmg.com to learn more.
Contact:
Karl Wayne, Executive Producer
News Media Group Inc.
(334) 440-6397
Karl(at)newsmg(dot)com