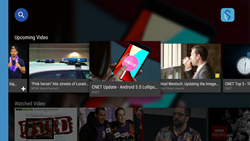 Because Class6ix allows viewers to be as active or as passive as they want, without sacrificing personalization, launching on Android TV was an obvious choice.
Twinsburg, OH (PRWEB) November 24, 2014
Class6ix is announcing the immediate availability of its personalized newscast service for Android TV. The Ohio-based software startup is the first news app on Android TV to offer a customized news experience for each viewer that incorporates local news content based on your location.
Class6ix gives viewers the opportunity to watch quality news video from a variety of local and national sources as a single, integrated newscast. As users watch and skip past stories, the service automatically adapts the story selection in real-time to display content relevant to their interests. Class6ix already delivers its service on the web, iOS and Android and earlier this year became the first news aggregator to support Chromecast.
"One of the most exciting things for us to see is the level of engagement our users have with the service, especially among those who have cut the cord and no longer pay for television," said Ted Cannelongo, co-founder of Class6ix. "Our typical viewer spends over three hours watching Class6ix each month and sees an average of over 100 videos. It is becoming an essential way for users to get the news that matters to them."
By comparison, comScore reported that the two largest video properties in the U.S., Google/YouTube and Facebook, saw average monthly video views of 71 and 52 videos, respectively, in March of this year.
With Class6ix, newscasts transition from device to device. Users can queue stories on their mobile device or computer for later viewing on Android TV, and videos resume where the user left off. Viewers can take advantage of Android TV's voice search capabilities to find and queue specific stories of interest, or they can lean back and allow stories to be selected for them based on their previous viewing habits and other signals.
"We're thrilled to give our users the opportunity to enjoy the Class6ix experience on devices such as Nexus Player and televisions with Android TV," said Cannelongo. "Because Class6ix allows viewers to be as active or as passive as they want, without sacrificing personalization, launching on Android TV was an obvious choice."
Though the Play Store app on Android TV devices currently displays only launch partner apps, Class6ix can be downloaded directly to Android TV devices through the web-based Google Play Store listing in the United States, Canada and United Kingdom.
About Class6ix
Class6ix is an Ohio-based technology start-up founded around a goal to reshape the way users consume video news. Using a patent pending approach, the Class6ix service aggregates video news from national, local and hyperlocal sources into newscasts that self-customize for each individual user. Viewers can access their own dynamic video news channel through a multitude of platforms. Class6ix is available at http://www.class6ix.com, as an Android app in the Google Play Store and as an iPhone app in the iTunes App Store. Class6ix is a graduate of Flashstarts, an agile startup accelerator focused on unique and innovative uses of software and technology. Visit http://www.flashstarts.com for more information.