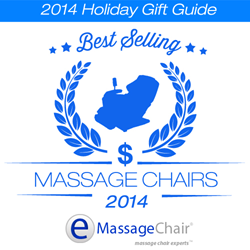 After analyzing the extensive customer reviews and testimonials on their site, and speaking with thousands of savvy shoppers across the country, Emassagechair.com releases this year's top five selling massage chairs
Las Vegas, NV (PRWEB) November 25, 2014
One of the industry's most trusted and well-trafficked sites for massage chair purchases, Emassagechair.com--the home of the massage chair experts--was this year's go-to site for shoppers seeking blue-chip customer service, free shipping, zero charge for sales tax, and price match guarantees.
The company's mission is simple: help customers navigate through the overwhelming amount of massage chair-related information available on the Internet. Carefully assessing budgetary concerns, individual lifestyle factors, health goals, and space limitations, Emassagechair.com personal shopping assistants guide customers in choosing the best chair for their specific needs.
In support of their long-held reputation as the "consumer's site," the Emassagechair.com customer service team undergoes extensive product testing and training, ensuring every team member possesses in-depth knowledge of the intricate inner workings of every chair. True industry experts, they easily answer even the most highly technical of questions.
To assist 2014 holiday shoppers in their quest to find the perfect chair for their family member or loved one, and just in time for the online deals offered on the Friday after Thanksgiving, Small Business Saturday, and the Holiday shopping weekend, the company has released their 2014 Best-Selling Massage Chair Guide.
After analyzing the extensive customer reviews and testimonials on their site, and reviewing catalogues of live conversations with thousands of savvy shoppers across the country, Emassagechair.com has released exclusive industry data pinpointing this year's five top sellers and explaining the unique set of reasons each chair stood out to specific target audiences.
Panasonic EP-MA73 Real Pro Ultra: the most life-like massage experience on the market.
Doubling as both a recliner and a massage chair, this chair is the industry's closest thing to having a personal masseuse in your home. Among the most beloved features of this almost human-equivalent is the new Quadruple Stretch feature, which provides a deeply therapeutic and unparalleled stretch throughout the shoulders, pelvis, leg and neck. Other customer favorites include the heat that is applied to both the foot massage and the 3D roller, as well as Ultra Kneading technology to the palms of the hands and the soles of the feet.
Osaki OS-3D Pro Dreamer: industry's best roller technology for neck and shoulder massage, under $5k.
The customer feedback on this chair is consistent--equipped with the best technology in the industry, the Osaki OS-3D Pro Dreamer's superior 3D roller is it's main distinguishing and crowd pleasing feature. Using pressure sensor technology to scan and map your spine, this model micro-adjusts to pay extra attention to hard to reach areas such as the neck and spine. With the ability to extend 3 inches into the body, this chair provides one of the best deep tissue massages on the market, all with a rarely seen four-year manufacturing warranty.
Infinity Iyashi: best deal for cutting-edge innovation-seekers with space restrictions.
Considered the massage chair industry's top innovator, Infinity's visually appealing Iyashi model features one of the longest massage strokes ever brought to market, making it a crowd pleaser and landing it among this year's solid massage chair favorites. Their groundbreaking 49 inch L style massage mechanism extends from the neck all the way down to track under and the gluteus muscles, giving it the ability to apply its healing touch to 35% more of the body than any other massage chair. The newly developed space saving track system makes this a favorite amongst those who want high quality in a compact package.
Infinity IT-8500: best deep tissue massage chair under $4k.
The absolute top pick for those that enjoy a firm massage with great stretching capability is the Infinity IT-8500. Using a single-touch button system, this chair features the unique ability to recline into two levels of zero gravity. Going one step further to increase relaxation and comfort, clients raise the ottoman and utilize the isolation-intensifying InterSound speakers and built in MP3 player to pipe in their favorite mood enhancing beats. Best for those looking for a cleansing, deep tissue massage experience, the chair is well-known for it's strong Quad-Style Accu-Roll Shoulder and Neck massage option. This advancement can read and detect the upper portion of the back for a more pointed massage. The IT-8500 also has one of the most advanced foot rollers available, with three rollers and three intensity levels to from which to choose.
Osaki OS-4000T: consumers best buy under $3k. Newly equipped with foot rollers, the OS-4000T is the top choice for the budget conscious consumer who's absolutely unwilling to compromise on quality. All for under $3000, this chair has a ton of amazing features for the price point, such as zero gravity, a 30 inch long roller stroke, a comprehensive air compression system, and S-curve detecting body scan technology, which enables extra concentration on problem areas such as the neck, shoulder, and lumbar areas. Truly being one of the most popular massage chairs, the OS-4000t is a best seller for it's 4th year in a row.
Not sure which chair is right for you or your loved one? Check out our massage chair reviews, 2014 Holiday Shopping Guide, extensive collection of video demonstrations, and Expert Guide Blog. Prefer to speak with them directly? Call and talk a live expert at 888.360.9996--they'll help you gain clarity and peace of mind on your purchasing decision. Prefer to chat online? Try their Ask An Expert feature.
Massage Chair Experts Tip: buy early to avoid backorders! Hoping to have your chair in time for Christmas 2014? They recommend locking in your selection by the first week of December. Stay tuned for amazing and limited time Holiday deals you won't want to miss!