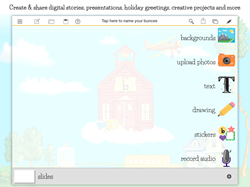 "It is our hope that Buncee for Edu opens up new possibilities for learning, creating, and storytelling in every 1:1 classroom, library, and at home or on the go."
Calverton, New York (PRWEB) November 24, 2014
buncee®, known for its web-based creation and presentation tool, released the new free iPad app Buncee for Edu, and revamped Buncee Pro, its original iPad app perfect for holiday projects, crafts and creations.
Remarking on the newly released Buncee for Education app, company CEO Marie Arturi notes, "We're thrilled to release this educational iPad app as a creation tool for teachers and students. At buncee, it's our goal to help students and educators create and learn - both inside and outside of the classroom."
Buncee for Edu is the ideal tool for creative education, allowing students to easily create their own digital stories, presentations, holiday projects, and more. Mirroring much of edu.buncee.com's web creation functionalities, the app's slide-based digital canvas allows educators and students to design these creative projects by combining themed backgrounds and stickers with photos, text, and even audio recordings. The finished buncee creations can easily be shared from the app, and published onto edu.buncee.com for further viewing online.
Monica Burns, EdTech and Curriculum Consultant, writes, "Buncee for Edu is a fantastic creation tool for students! It empowers learners of all ages to tell their own stories, demonstrate their understanding, and engage with content in any subject area." Agreeing with Ms. Burns, CEO Arturi adds, "It is our hope that Buncee for Edu opens up new possibilities for learning, creating, and storytelling in every 1:1 classroom, library, and at home or on the go."
Along with this new educational app, the Long Island tech startup released a redesigned Buncee Pro iPad app with a new user interface and features, as well as new backgrounds and stickers perfect for holiday projects. The app's digital canvas makes it easy for anyone to create and share holiday greetings, family scrapbooks, personalized birthday cards, digital stories and more.
With Buncee Pro's new interface users can add multiple slides to their creations and even include their own audio recordings. They can draw inspiration from the Latest Creations user gallery or leverage the new Wizard tool to automatically create buncees based on holiday templates. Completed creations can be shared via social media, e-mail, print, or even posted to buncee.com for further viewing and editing online.
Whether on the go, in the classroom, or at home, buncee's iOS apps make creating and sharing original digital content easy and fun. For further information on all of buncee's mobile apps, visit http://www.buncee.com/mobile.
About Buncee:
Buncee® simplifies online content creation with its digital canvas and easy-to-use tools. Whether teachers are flipping their lessons, students are crafting digital stories, or parents are designing holiday greetings, creating engaging original content on buncee.com and edu.buncee.com is simple and fun. At school, at home, or even at work, buncee makes it easy for even the most 'nontechnical' users to create interactive multi-media creations that can be shared with customizable privacy settings. For more information, visit buncee.com.