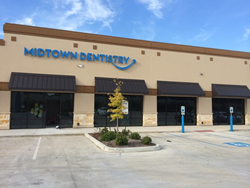 (PRWEB) November 25, 2014
Many patients are already familiar with Midtown Dentistry's original location which is right in the middle of Houston. Midtown Dentistry at Westheimer is situated in a beautifully renovated early 20th century property. It looks like a classic building from the outside, but once inside patients benefit from the most sophisticated and up-to-date technology available today. Dr. Jonathan Penchas and the dentists at Westheimer use the newest ultra-sterile equipment and treatments utilize the very latest materials, providing patients with the type of high quality care they have come to expect and trust when visiting Midtown Dentistry.
Midtown Dentistry's newest location is in a shopping center right off interstate 10 Frontage Road, close to Hilshire Village. This brand new dental office welcomes existing and new patients and has the same commitment to maintaining the highest standards of dental care. The interior is just as welcoming as the original location and the staff are every bit as friendly. Dr. Jonathan Penchas has invested heavily in ultra-sterile, state-of-the-art equipment, and this second dental office also offers a complete range of treatments that range from straightforward dental cleanings to the most complex full mouth restorations. Both locations benefit from plenty of free parking.
The newest location will be open for business from December 1st, and appointments can be requested online or booked directly with the dental office.