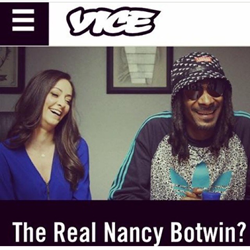 In the film, Snoop Dogg recounts, "I see some similarities between them two. Hollywood is crazy."
Los Angeles, CA (PRWEB) November 24, 2014
Following the release of Vice Media's online documentary The Real Nancy Botwin, "Weeds" fans around the world are finally learning that Showtime's highest-rated television show was inspired by a real person, and without her permission. That person is "Dr. Dina", who received her nickname from Snoop Dogg for opening LA's first doctor's office which specialized in medical marijuana recommendations and being one of the pioneers of the cannabis movement in Southern California.
The film, which features Snoop Dogg, shows how the character Nancy Botwin was inspired by Dr. Dina, who launched her consultancy in 2003, two years before the show debuted and at a time when she had direct contact with creative personnel on the show and when there were very few women in the business – especially in LA. The film also includes stories of Dr. Dina dealing with the drug cartel, federal drug raids, and footage of her and Snoop reflecting on when she smoked weed for the first time with him.
As for the show "Weeds", Vice shows how the similarities between Dr. Dina and her fictional counterpart Nancy Botwin go far beyond looks and attitude - even though those similarities are striking nonetheless. Essentially, the very core of her personality, looks and life-situation were used as the starting point for the show. In the movie, Snoop Dogg recounts, "I see some similarities between them two. Hollywood is crazy."
Dr. Dina explains "Ever since the pilot aired and even more so today, I'm constantly being stopped and asked if I'm the real Nancy Botwin. Yes, the show was inspired by my life. But Weeds is certainly not my life story. Nancy was a criminal drug dealer. Everything I do is legal in accordance with state law. I am not so much driven by money but by the desire to help people in need."
When the show first aired, Dr. Dina decided not to come forward due to the social climate and her desire to stay out of the spotlight. However, after recently being "outed" by Snoop in a GQ article and named "The Queen of Medical Marijuana in LA" by Rolling Stone, she has now decided to come forward and share her story with the world, and correct many misconceptions about weed - many of which were caused by the show "Weeds" itself.
Since 2003, in addition to consulting with countless Hollywood celebrities, politicians, executives and other VIPS, Dr. Dina has consulted with over three dozen non-profit medical marijuana dispensaries in California, three in Colorado, and one in Oregon. Moreover, she has and continues to consult with the City of West Hollywood and Los Angeles to help safely regulate the business. Among her many professional accomplishments, she helped launch a "compassion" program that provides free medical marijuana to the city's sick and needy.
The Vice documentary, which received over half a million views in the first two weeks, can be found on Vice.com (http://www.vice.com/video/the-real-nancy-botwin-420) and YouTube. Dr. Dina can be found at http://www.drdina420.com