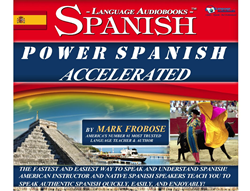 Emailing Language Program Gifts Is Now Cheaper and Easier Than Ever Says Mark Frobose of LanguageAudiobooks.com
Champaign, IL (PRWEB) November 24, 2014
Who ever heard of emailing a gift-wrapped language course just in time for Christmas?
"A lot of people don't realize how much money and time they can save by just going to Audible.com and ordering a language program wrapped up like a Christmas present," says Mark Frobose, bestselling author of Power Spanish Accelerated.
"Our newly released YouTube video shows everyone exactly how it's done," says Mark Frobose, the prolific author of more than 70 bestselling language programs, including the well-known Power Italian Accelerated.
Why would anyone prefer to receive a language program in their email as opposed to under the tree?
"People are constantly using their smartphones, and these emailed language course gifts come digitally gift-wrapped and can be instantly downloaded to the recipient's smartphone for immediate use and practice everywhere they go," explains Mark, who also created the popular Power French Accelerated.
How does one access the language gifts to be emailed?
"That's easy," exclaims Frobose, who created Power Mandarin Chinese.
Holiday shoppers can simply go online to Audible.com and type in Power Spanish, Power French, Power Italian, Power Portuguese, or Power Mandarin Chinese. They then order the program as a gift, and can easily schedule the delivery time as well.
Please direct inquiries to mark@languageaudiobooks.com or call 1-866-431-4942.