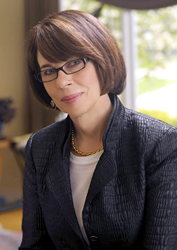 Mary Jurek Design blends organic designs with hand-wrought stainless steel to create dishwasher-safe heirlooms and special occasion gifts.
Torrance, California (PRWEB) November 24, 2014
Mary Jurek Design has been nominated as a finalist for the 26th annual ARTS Awards Tabletop Category by the Dallas Market Center and ART, the creative home furnishings network. The elegant home decor collections of Los Angeles-based Mary Jurek Design, Inc. blend organic designs with hand-wrought stainless steel to create instant heirlooms of refined everyday tableware and special occasion gifts.
The ARTS Awards, presented each January during the Dallas Total Home & Gift Market, recognizes top manufacturers, retailers, designers and sales representatives from across the world. The 26th annual ARTS winners will be revealed during a gala event on Friday, Jan. 16, 2015 and will recognize excellence in 27 different categories.
Describing her work as a union of legacy silver designs and ancient metal crafting techniques, Mary Jurek first gained international recognition as a diamond jewelry and watch designer. She won four design awards for Gübelin of Switzerland and designed for distinguished brands including Piaget, Tiffany & Co., Cartier, Wako of Tokyo, and Gumps in San Francisco. But with an innate love for stainless steel and product design, Mary shifted gears to create high quality yet affordable tableware and home décor, and in 1998, Mary Jurek Design was born.
"The finalists this year create the fullest, most robust slate we've had in years across all categories from top manufacturers and retailers to designers and sales representatives," said Cindy Morris, COO, Dallas Market Center. "We congratulate all of the finalists and look forward to celebrating their achievements at the industry's premier event in January."
The finalists submit a digital presentation to a panel of distinguished judges. Digital submissions vary based on category and may consist of product development, marketing, merchandising or company differentiation examples. Once all components of judging are complete, a designated accounting firm will tabulate and secure the scores until the winners are announced in January.
The 26th annual ARTS Awards are sponsored by enLIGHTenment, FANDECK, Gifts & Decorative Accessories, Giftware News, HFN, Home Accents Today, Home Fashion Forecast, Home & Textiles Today, Residential Lighting and the Sustainable Furnishings Council.
About Dallas Market Center
Founded in 1957, Dallas Market Center is the world's most complete wholesale marketplace. Within its marketplace of more than five million square feet, retailers from around the globe source products ranging from home furnishings, gifts, decorative accessories and lighting to textiles, fashion accessories and men's, western, women's and children's apparel. With more than 50 markets each year attended by more than 200,000 retail buyers from all 50 states and 85 countries, Dallas Market Center offers hundreds of events and seminars geared toward helping retailers expand business and increase profits. The Dallas Market Center website is available at dallasmarketcenter.com.
About ART
ART is the creative home furnishings network representing manufacturers, retailers, representatives and other individuals and companies interested in promoting and enhancing the market position of the home furnishings industry. Each year ART sponsors programs such as the ART conference, regional educational seminars, the ART card and the ARTS Awards. The ART website is available at http://www.accessoriesresourceteam.org.
About the ARTS Awards
The ARTS Awards is the premier international awards program dedicated to the home industry. Up to 27 categories exist under the headings Manufacturer, Retailer, Product Designer, Interior Designer, Sales Representative, Rising Star, Green and Academy of Achievement. Anyone in the industry can nominate including manufacturers, retailers, sales representatives, designers, suppliers, consultants and other industry officials. Academy of Achievement and Rising Star honorees are selected by an ARTS Awards committee each year. Companies that have won an ARTS Award five times are inducted into the Hall of Fame. Hall of Fame members are: BJ's Home Accents, C.S. Wo & Sons, Distinctive Designs International Inc., Feizy Rugs, Fine Art Lamps, Global Views, Montaage, Natural Decorations Inc., Palecek, Paragon, Robb & Stucky and Schonbek Worldwide Lighting.
About Mary Jurek Design
Mary Jurek Design, Inc. is a Los Angeles-based luxury goods company that creates and distributes fine stainless steel tableware and home décor products to retail stores throughout the United States, Canada, Mexico, Middle East, UK and the Caribbean. Founded by award-winning jewelry and watch artisan, Mary Jurek, the company juxtaposes hand-hammered stainless steel with a soft, organic flare to create an 'old world meets modern day' style that appeals to luxury lifestyle enthusiasts everywhere. For more, visit http://www.MaryJurekDesign.com.