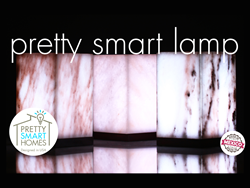 Pretty Smart Lamp: Beauty meets Bluetooth
Austin, TX (PRWEB) November 24, 2014
If anything defines millennials today (and the up-and-coming Generation Z), it's their attachment to their smartphones. You can see them in the high-density downtown neighborhoods of today's major cities, walking with their heads down deep in a Twitter exchange or SnapChat discussion.
But what's been missing from their smartphone-dominated world is a connection with their living space.
Despite the dozens of things the smartphones can control now, such as audiovisual equipment, home security, cooking utensils and toy racing cars, there has been nothing that connects phones to the comfortable decorative accessories that make a home truly a home – until now.
A newly launched Austin, Texas-based Kickstarter campaign is hoping to change all that.
Austin resident and Internet startup veteran Antonio Rodriguez, originally from Monterrey, Mexico, and his daughter Andrea Rust, are launching the Pretty Smart Lamp, a handcrafted lamp that combines minimalist hipster chic with Bluetooth Low Energy and smart Beacon tracking. They're hoping this can become an aesthetically pleasing extension to the smartphone – and the cornerstone of future smart homes.
Design First
Rodriguez and Rust designed the lamp for those that have just moved into their first condo or apartment in hipster meccas such as downtown Austin, San Francisco's Mission District, or New York's East Village.
The lamp is not as nerdy as it sounds. It's actually a beautiful, heirloom quality fixture that lends that perfect accent to your living room - or better yet your bedroom.
Designed in the USA and made in Mexico, it is manufactured using alabaster, a translucent artisanal stone fashioned into a thin lampshade. The base of the lamp is made from precision-machined mahogany.
But snuggled inside the lamp is the heart of a new wave of smart homes technology: the Bluetooth Low Energy protocol to connect to a mobile device, and smart Beacon technology to provide micro-location aware capabilities.
If a smartphone isn't within reach, with just a hand tap to the smart lamp it can be turned off or on with the built-in accelerometer sensor, which can detect the tapping and control the 48-LED smart lights that illuminate the lamp.
The built-in temperature sensor alerts users if their room is too cold or hot, and interfaces with the new Nest smart thermostat, enabling control of the home's microclimate through the lamp.
With the built-in smart Beacon technology, originally designed to enhance the retail experience, the lamp can detect when a user's smart phone is near. The accompanying iPhone or Android app will then display pre-settings for light color, alerts and notifications for any lamp that is in the immediate vicinity.
Smart Homes Ready
So far smart homes have been the domain of the wealthy or the super-geeks. But Andrea Rust, herself a millennial conscious of the design sensibilities of her own generation, wanted to make smart homes cool and accessible to a new market.
Rust wanted to find a way to sneak in the beginnings of home automation by leading with a "design first" strategy. The lamp "…not only appeals to the more design-conscious individual, but also to the inner techie…" says Rust in the Kickstarter video.
And the lamp is just the start. Hoping this will launch their new company, Austin, Texas-based PrettySmartHomes.com, Rodriguez and Rust plan future launches that follow the "Beauty meets Bluetooth" theme. They want to furnish millennials and generation Z with the design-centric smart technology they've become used with their iPhones and iPads.
"I believe these are the class of home furnishings Steve Jobs would have designed," said Rodriguez.
The Kickstarter campaign launched Wednesday, November 19th with a goal to raise $20,000 over a 42-day period. They aim to ship by May.
About PrettySmartHomes.com
PrettySmartHomes is a design-centric home automation company based in Austin, TX, whose goal is to manufacture aesthetically pleasing home furnishings with embedded Bluetooth Low Energy and other Internet of Things technologies to help usher in a suite of home automation products for the design-conscious inner techie.
For more information contact:
Antonio Rodriguez. Tel: 512-342-2090, Email: antonio@prettysmarthomes.com
Fernando Labastida. Tel: 512-945-9273, Email: fernando@contentpropulsion.com