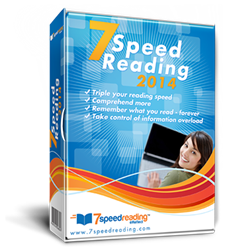 Literacy is an important skill that helps people who are deprived of their human rights and privileges to empower themselves.
(PRWEB) November 24, 2014
7 Speed Reading™ software designer eReflect shares an inspiring, educational video on the history of human rights and their role as the foundation for a sustainable society. eReflect directs readers to a video on Cyrus the Great, a man that back in 593 B.C. introduced for the first time what's considered to be the oldest charter of human rights. As the video presented on the 7 Speed Reading™ website illustrates, one of Cyrus the Great's biggest achievements was his declaration that all slaves were free, and that humans were essentially equal and free to choose whichever religion they wanted. These declarations are found in the Cyrus Cylinder, which may be the oldest declaration of human rights.
eReflect's learn to speed read software helps people improve the important skill of reading so that they can educate and empower themselves and reach their full potential in terms of capacities, talents, and aspirations. Literacy is an important skill that helps people who are deprived of their human rights and privileges to empower themselves. It helps people to find the means to assert and uphold their human rights and enjoy the freedoms everyone else does.
From being treated as equal to being able to speak up without any censorship, human rights are inalienable birthrights for every human on the planet. As eReflect reminds readers, "Human rights are not selective, they apply to every single person that lived, lives and will ever live on Earth and it's the basis civilization and societies are built upon. Human rights are permeated by the mutual understanding that people share the same privileges and have the same needs." Some of the most notable human rights are the right to live safe and free, the right to be equal before the law, the right to own property, and the right to take part in peaceful meetings.
Even though human rights are more than 2000 years old, war, conflict, and other disasters still deprive many people of their inalienable rights. These rights, when universally applied and respected, can establish long-lasting peace, justice, and prosperity in the world.
************
For more information about the benefits of using 7 Speed Reading, please visit the official website at http://www.7speedreading.com.
About 7 Speed Reading™
7 Speed Reading is the only modern speed reading software that uses the latest technology to produce superior results.
The software provides its users with a new way to master speed reading that guarantees three times the reading speed along with improved memory and comprehension.
The software is poised as the most comprehensive speed reading system anywhere. It contains seven learning strategies, fifteen software activities, video training, advanced tracking capabilities and many more exciting features.