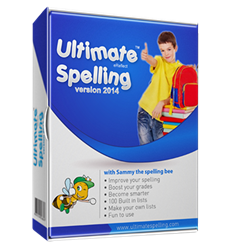 Spelling is omnipresent. We understand its importance when our autocorrect messes up our text messages...
New York City, NY (PRWEB) November 25, 2014
eReflect, designer of Ultimate Spelling™ software, announced in a new blog post that spelling training is not restricted to people of a certain age. As the company notes, anyone who wants to improve their spelling mastery can do so - and should - if they feel their orthography skills could use some brushing up. Misspellings abound in online and print communications in every sector of the academic and corporate world, but not everyone is ready to admit they need to work on their spelling. eReflect hopes that more people will choose to use spelling tutor software, because this is one of the easiest ways to improve spelling proficiency and enhance language skills as a whole.
The Ultimate Spelling™ designer mentions two Spelling Bee competitions that had one peculiar characteristic in common: the participants weren't school children, but adults, and in one case seniors. The Opelika senior spelling bee competition is certainly not as famous as the Scripps National Spelling Bee, but it does serve the same purpose. It offers spelling masters a chance to highlight their spelling knowledge and be recognized for the hard work put into mastering this language skill. Spelling bees for adults prove that a spelling program makes learning to spell fun and interesting. There's a widely held misconception that learning to spell is a tedious, repetitive process but the truth is that with well-designed learn to spell software, spelling can be a thoroughly enjoyable learning experience for people of all ages.
eReflect encourages people to first try a spelling activity on their computers or smartphones to see for themselves how easy, fun, and addictive it is to improve spelling these days. eReflect emphasizes the importance of spelling in the post, saying, "Official and unofficial spelling bee events remind us that spelling is an integral part of everyday communication. Spelling is omnipresent. We understand its importance when our autocorrect messes up our text messages, when our editor flags our misspellings, and when we have trouble spelling a last name that seemed to be so simple to spell when we heard it pronounced." The company hopes that more people will take note, and try out one of today's fun ways to improve spelling.
***********
For more information about how Ultimate Spelling software can improve spelling performance for you and your family, please visit the official website at http://www.ultimatespelling.com.
About Ultimate Spelling™
Ultimate Spelling provides a modern and easy to use spelling software that has been designed with one goal in mind – making children want to learn.
It is a fast and easy way to master even the most complicated spelling, without the need to write long lists or complete boring tests.
In fact, Ultimate Spelling provides more than just spelling help. It is a complete educational resource that boosts all level of a child's literacy.
Containing a personal computer tutor, Ultimate Spelling is the most realistic step-by-step guide to flawless spelling ability.