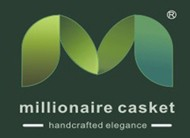 (PRWEB) November 24, 2014
MillionaireCasket.com is a leading casket manufacturer and supplier, offering many metal caskets, solid wood caskets, veneer caskets and more. Today, the company announces its special offer on ash caskets, which is valid until Dec. 16, 2014.
In recent years, Millionaire Casket has designed many kinds of caskets that have various interior and exterior structure and decoration to meet diverse needs. The ash caskets from MillionaireCasket.com are manufactured in a variety of metals, such as bronze, copper and stainless steel. They are featured with high-quality craftsmanship.
The company has its own manufacturing facility loaded with advanced machinery. It has a team of skilled craftsmen. Every product is acutely checked. All its products are at affordable prices.
The CEO of the company says, "We employ professional workers to analyze every product to ensure exquisite quality; we have strict quality control systems. You don't have to worry about the quality."
MillionaireCasket.com is devoted to designing and manufacturing high quality caskets for more than 10 years, and it has much experience in caskets. Furthermore, MillionaireCasket.com offers urns, stretchers, church furniture, embalming tables, church trucks, keepsakes and other related funeral products.
About MillionaireCasket.com
MillionaireCasket.com is a leading casket company that focuses on the business of casket wholesale. This company offers an exquisitely crafted line of all kinds of caskets. The standard quality control policy is strictly applied here, and a third party quality assurance is also available.
More information can be found at http://www.millionairecasket.com/71-ash-caskets.