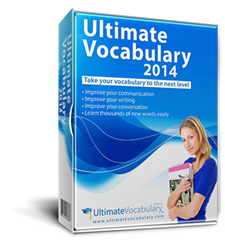 Nobody's born with power vocabulary, they must improve vocabulary knowledge through reading and daily language use.
New York City, NY (PRWEB) November 26, 2014
An inspiring message by the Khan Academy founder was shared by eReflect recently on the Ultimate Vocabulary™ website. The inspirational video reminds young people that they can learn anything they set their mind to. Humans are extraordinary creatures with an inherent ability for learning found in no other creature in the animal kingdom. Babies are born knowing nothing, but with continuous exposure to implicit and explicit instruction they do the impossible: they become knowledgeable, skillful individuals capable of impressive achievements. The Khan Academy founder's declaration "You can learn anything" is a statement grounded in reality. People can indeed learn anything, if they consciously set their mind to it.
Nobody's born with power vocabulary, they must improve vocabulary knowledge through reading and daily language use. Nobody knows how to tie their shoes, play basketball or do basic math without instruction, and although babies learn to speak, people shouldn't be satisfied with an underdeveloped vocabulary.
"The 'You can Learn Anything' message is an inspirational statement that many young people need to hear. Struggling students, people lacking the basic resources for advancing their education, people thirsty for knowledge, all are reminded that as humans they have the right and ability to learn, to make knowledge their own," eReflect states. As the developer of vocabulary builder software that can be used by people of any age, the company hopes that vocabulary improvement won't be something that adults think they no longer need.
eReflect helps students and people of all ages get their hands on basic literacy skills and key tech skills like spelling, vocabulary, speed reading, and touch typing. Such fundamental skills allow people to open the window to more knowledge, expertise, and creativity. Khan Academy i a free online learning platform which gives everyone access to valuable knowledge at no cost. From science and math to arts and finance, Khan Academy offers the invaluable gift of knowledge. It has been proven time and time again that knowledge is a person's ticket to success and self-fulfillment, and eReflect and Khan Academy, in their own unique ways, help people realize these goals, eReflect concludes.
***********
For more information on how you can benefit from Ultimate Vocabulary, please visit its official website, http://www.ultimatevocabulary.com.
About Ultimate Vocabulary™
Ultimate Vocabulary provides a proven and powerful platform, built to improve anyone's vocabulary.
The interactive self-improvement system provides more learning tools than any other program on the market, as well as more information on words.
The Ultimate Vocabulary software provides each and every user with a personal computer tutor. Providing a step-by-step guide to learning a powerful vocabulary, Ultimate Vocabulary is the learning tool everyone can benefit from.
Of course, the software is also backed by eReflect's iron-clad money back guarantee.