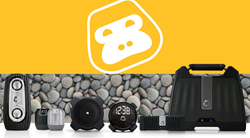 Los Angeles, CA (PRWEB) November 24, 2014
NOVEMBER 24, 2014 - G-Project, a company dedicated to evolving accessories for smart devices to be rugged and real-world ready, is making sure everyone in the family is fully equipped to take their music anywhere and everywhere this holiday season with great Black Friday and Cyber Monday deals. From their $100 boombox, G-BOOM, to their crushproof, drop tested speaker, G-GRIP, G-Project's line offers something for everyone.
Starting Monday, November 24th through Sunday, November 30th, G-Project is offering 20% off everything available in the company's online store plus free shipping. G-Project's popular line of rugged speakers include their fun-sized travel speakers,G-ZIP and G-POP, which make for a perfect stocking stuffer. And for those who spend a little more time where water might be a threat, G-DROP, a fully submersible Bluetooth speaker and G-GO, a water-resistant boombox are the company's go-to speakers both winter and summer activities.
G-DROP, the newest addition to the company's line, is designed for outdoor lovers, who want to take their music from sitting on the sidelines to being in the middle of all the action. With its IPX7 rating, G-DROP can be submerged in water at a depth of one meter for 30 minutes, and still continue to play. It's also built with a 6-hour rechargeable battery.
On Cyber Monday G-Project will continue to offer great holiday sales including:

Buy one G-BOOM and receive two G-ZIPs free + free shipping
Buy one G-GRIP and receive one G-ZIP free + free shipping
Named 2013 Speaker of the Year by iLounge, G-BOOM pumps out powerful sound in a rugged, portable package. G-BOOM streams audio via Bluetooth and features a 2.2 speaker configuration with dual ports and MAXX AUDIO, delivering big sound with full bass. G-BOOM's rechargeable battery allows up to six hours playtime, so you can keep the holiday jingles going all night long.
For friends or family live a little more of an adventurous life, G-GRIP is a portable, ultra-durable, speaker that is built super-tough. Drop tested up to 8-feet and crush tested to withstand 1,339 lbs., this speaker can keep up with the best adventures. G-GRIP can stream music wirelessly and has a built-in rechargeable battery for up to eight hours of listening.
Holiday deals available only on G-Project's website.
About G-PROJECT:
G-Project is dedicated to creating speakers and accessories for smart devices that are rugged and real world ready. Always built with durability and portability in mind, G-Project creates lifestyle products for on-the-go, adventurous consumers. In 2013, G-Project's Bluetooth boombox G-BOOM was honored by iLounge and named "Speaker of the Year." G-Project utilizes the backgrounds of the Goodhatch team in design, technology, and music to create award-winning speakers that serve as the backbone of G-Project's emerging California lifestyle brand.