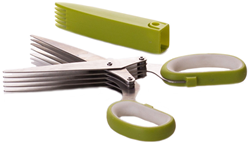 When compared to the time that it takes cutting with a knife, I'm done chopping herbs in a third of the time since I have five blades in motion instead of one.
New York, NY (PRWEB) November 27, 2014
"The 5-Blade Herb Scissors, made of top quality stainless steel, is a multi blade shear and herb cutter that's ideal for chopping, snipping, cutting, shearing, shredding, and mincing herbs and vegetables," said Jason Leon, a spokesperson from Select Culinary™, a leading kitchen tools and accessories company operating out of New York.
This new herb cutter, which is now available online at Amazon.com, is an ideal kitchen tool not only for the professional chef, but for the common man and woman who loves playing around in the kitchen knowing they have access to the same finest kitchen accessories that the professionals use.
"Ever wonder how a restaurant provides amazingly beautiful salads and meals with that perfect garnishing? This new herb scissors will help you provide your family a picture perfect meal," said Jason.
"Tired of chopping and mincing your favorite herbs? Do you wish that you could find an easy and quick method to get your herbs cut? Are you in search for a method to retain the flavors and aura of herbs at the time you serve food? Worried of the mess you create each time you chop herbs? If the answer is yes to any of the above, this newly released vegetable knife provides an easier way for persons to do some of the kitchen work," added Jason, who further disclosed they are currently working on other high-grade, useful, and ingenious products that will be released soon.
According to the spokesperson, this premium quality five-blade herb scissors could be one of the most invaluable tools within the kitchen. "Herbs, for example, "are a vital part of any good dish, providing a lovely decoration and a delicious flavor to whatever food they're used with. Therefore, in giving herbs the required consistency needed for that particular dish, is of the greatest of necessity, and so our 5-Blade Herb Scissors gives users the greatest of ease and convenience snipping, cutting, and chopping in no time at all," explained the source.
Pointing out that a simple snip with this new vegetable chopper is equal to five chops with a normal knife, Jason added the product comes packaged with a cleaning kit that works as a protective guard and can easily free any herbs stuck to the steel.
"Whether you're looking for something to help out in the garden, or to mince vegetables and herbs in record time right in the kitchen, these 5 blade scissors are the best herb cutters you'll ever find," noted Jason.
Product Summary:
High Quality Material And Design - The herb scissors' five sharp blades are manufactured using the finest quality stainless steel to prevent rusting and to increase the durability of the tool. The handles are made out of TPR to provide a firm but comfortable grip.
User Friendly - the easy to use herb shears are way easier and hassle free to handle compared to an ordinary knife. You could straightaway chop your herbs on to dishes seconds before it goes to the table. Amaze your loved ones with the irresistible aroma of freshly chopped herbs.
Total Time Saver - Chop a variety of herbs such as scallions, chives, parsley, thyme, spinach, green onion, cilantro, basil leaves, leafy herbs, rosemary, leak, dill in no time. You could sprinkle freshly cut herbs on to your favorite dishes just before you serve them, to protect the nutrients and flavor in it.
Easy To Clean - With the specially designed cleaning comb, cleaning in between blades after use is going to take fast. All you have to do is to comb off the leftovers and rinse the herb cutter well. Don't forget that it is also dishwasher safe.
Picture Perfect Garnishings - Ever wonder how a restaurant provides amazingly beautiful salads and meals with that perfect garnishing? Provide your family a picture perfect meal with this herb shears.
So, if you've ever done a bit of cooking, you know the vast importance of the right types of herbs. Good herbs are like magic, and can turn the blandest types of food into sweet and savory masterpieces.
The 5 Blade Herb Scissors makes the acts of chopping, mincing, dicing, and cutting a complete breeze. The five blades get more cuts than any knife would, and the stainless steel construction ensures a steady chop every time. With a flick of your wrist you can turn scallions, chives, spinach, cilantro, and tons of other herbs into the perfect garnish or spice.
The versatile cover combo allows you to keep the scissor blades out from the open air and safe from wandering hands, and clean off any number of herbs that may have gotten stuck between the blades.
Whether you're looking for a tool for your cooking or to keep your garden in check, don't look any further than the Select Culinary 5 Bladed Herb Scissor.
The Herb Scissors is currently available to purchase Amazon.com at the following link: http://www.amazon.com/Select-Culinary-5-Blade-Herb-Scissors/dp/B00LYP08ES