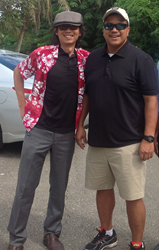 I hope to see a successful blockbuster in promoting our beautiful islands and local cultures. We welcome all movie stars from Bollywood, Hong Kong, China, Korea and of course Hollywood.
Hollywood, California (PRWEB) November 26, 2014
In the presence of Lieutenant Governor Mr Jude Hofschneider, his legal counsel and the Visitors Authority in Capitol Hill, China-active Seyefull Investments Limited (Seyefull) signed an Memorandum of Understanding with M&E Enterprises Inc. (M&E) to activate a Hollywood movie production, tentatively called 'Back to Home' in the US Territory.
Both parties agreed to form a joint venture to produce a 3-D action packed special effects movie with both American elements and Korea-China characteristics. The scripts are based on a controversial terrorist hijacked plane. The movie brings out the highest cooperation between American government agencies together with Chinese and Korean government agencies in solving the cross-border tensions under the assistance of the local Chamorro and Carolinian. The film will shoot at the world's deepest ocean, nearby US military bases in Pacific Ocean, as well as Seoul of Korea and Bo'ao of China Hainan Province.
Seyefull will conduct talent scouting for some 300 general actors as well as singers globally. The firm will also consider looking into the candidates who have been exposed in 'The Voice of China,' 'China Got Talents,' and similar programs.
After the signing, Mr Hofschneider mentioned that he hopes to see Hong Kong heavy weight Kung-Fu movie actor,Korean pop stars playing along with Hollywood stars in the movie.
Simultaneous premieres in China, Korea and the USA are scheduled in the 2016. Seyefull Entertainment indicates that the production cost sum is in the range of 1.8 billion Chinese Yuan. Substantial efforts will be allocated for post-production and 3-D effects as the downing plane is screen-written to go through many challenges and miracles in the story.
Meanwhile for those who are eager to take part in the talent scouting, they can sign up and upload picture and a 100MB short video clip on http://www.seyefull.com/kawanku/video. After completion, Seyefull will announce the result of the talent scouting on its website.