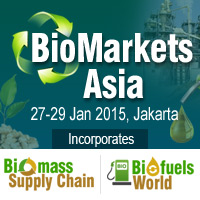 Growing traction in Asia's biomass trade along with the region's biofuel mandate will be the top focus at the January summit.
Jakarta, Indonesia (PRWEB) November 26, 2014
Growing traction in Asia's biomass trade along with the region's biofuel mandate will be the top focus at the January summit. Setting the tone of the 2.5 day meet is a session on 'Global Demand Outlook for Wood Pellets & Wood Chips, Pricing and Competition of Supply' by John Bingham, Research Director, Hawkins Wright Ltd. followed by JP Jaepil Song, President of Southeast Asia Division, Eco-Frontier sharing a key overview of 'Regional Resources Development & Collaboration Opportunities in South East Asia'.
Attendees also stand to gain from the Keynote Presentation by Dr. Mohd Emir Mavani Abdullah, CEO of Felda Global Ventures Holdings Berhad. Senior executives from ADL Capital Advisors, Ata Marie Group Ltd and Indonesian Clean Power Ventures will form a Panel to discuss 'Biomass Renewable Power Development & Potential in Indonesia'.
Top on the agenda for the BiofuelsWorld track are sessions on Pertamina's view on 'Meeting the Mandate for Biodiesel Blended Fuels in Indonesia' and another on 'Indonesia Petroleum (Gasoline & Diesel) Markets – Drivers for the Biofuels Mandate' by Frost & Sullivan. Conversely, the 'Current status of biofuels implementation', key market perspective of Philippines will be shared by Ethanol Producers Association of the Philippines (EPAP) while Scientific Council of Petrovietnam Research and Development Center for Petroleum Processing will deliver Vietnam's biofuel market outlook.
Key sessions from Biomass Supply Chain are:

Motivation Factors & Key Processes to Look for Investment/Partnership on Forestry to Pellet Production Projects – GDF SUEZ Energy Management Trading
Key Considerations in Setting Up Integrated Forestry to Pellets Production Facility – Ata Marie Group Ltd
Wood Pelletizing – Merits for Exports & Utilization – Sararasa Biomass Pte Ltd
Importance of Organized Logistic Chain: Maritime Transport, Ports & Hinterland – Clearsource Pte Ltd
Optimizing Palm Oil Plantation Business & ROI (Value-Adding to Palm Residue) – Global Green Synergy Sdn. Bhd
Indonesia's Biomass Availability for Sustainable Energy Generation – PT Inhutani III (Persero)
Key sessions from the BiofuelsWorld:

Biodiesel Producer's Perspective on Managing Production Economics & Meeting Demand – Indonesian Association of Biofuel Producers (APROBI)
Perspective & Plans on the Usage of Biofuels in Aviation Fuels – Garuda Indonesia
Global Ethanol Market Dynamics (Trade-Flow) & Assessment of the Feedstock Availability – Green Pool Commodities Services
Ligno-Cellulosic ethanol: Current Status, Economics, Technology & its Importance to India's Biofuel Mandate – DBT-IOC Centre for Advanced Bio-Energy Research (Indian Oil Corp Ltd)
Sustainable Feedstock for Integrated 2nd GN Biodiesel (Hydrotreated Vegetable Palm Oil) – PT Perkebunan Nusantara IV (PTPN)
Nano-Emulsion & Polarization Technology in Biofuel Production - Solution to Sustainability from Feedstock Supply, Production & Commercial – Bionas Sdn Bhd – Bio Oil National Group
Senior executives from government, biodiesel and ethanol producers, oil majors, palm oil companies, wood pellet and wood chips producers, PKS exporters, power utilities, feedstock producers, plantation and forestry companies, fuel distributors, green chemical companies, automotive manufacturers, trading houses for biofuels and biomass, financing institutions, feedstock processing & torrefaction technologies providers, pelleting machinery providers, logistics & storage providers, catalysts & additives providers, sustainability consultants, EPC & construction, and testing/inspection companies are expected to attend this event.
View the event website or call Ms. Hafizah at +65 6346 9218 for more details.