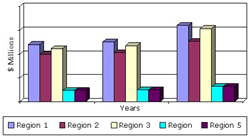 Wellesley, MA (PRWEB) November 24, 2014
BCC Research reveals in its new report, Global Markets for Hydraulic Pumps, the hydraulic pumps global market is anticipated to reach $10.1 billion by 2019, registering a compound annual growth (CAGR) of 4.9% over the next five years. North America represents the largest market and is expected to increase at a five-year CAGR of 5%, accounting for $3.2 billion in 2019.
With the recovery of the global economy, construction activities have geared up globally, including in North America and Japan. These activities have increased the demand for material handling and earth moving equipment, which in turn has increased the demand for hydraulic pumps. In addition, legislation and regulations focusing on reduction of CO2 emissions and energy savings are contributing to expansion in the hydraulic pump market. BCC Research projects that the global market for hydraulic pumps will rise from $7.5 billion in 2013 to $7.9 billion in 2014.
In the long term, the hydraulic equipment market is expected to drive the market for hydraulic pumps, with increasing demand for renewable energy production and infrastructure improvement in the North America and Asia-Pacific. Upgrading of existing machinery and equipment in these regions offers a huge opportunity for the hydraulic pump market, mainly for gear and piston pumps, which have high-performance properties that boost energy efficiency. However, in the longer term, the developing regions, including Brazil, India, and others, will create many opportunities for the hydraulic pump market.
"Global economic downturns have affected many end-user industries that use hydraulic equipment, including construction, automotive, aerospace, defense, and manufacturing. These industries in turn have affected the hydraulic pump market to a considerable extent," says BCC Research analyst Aneesh Kumar. "At the same time, advancements in hydraulic pump technologies have resulted in reduced energy consumption by the machinery, thus reducing the global carbon footprint and decreasing the overall operating costs of the equipment."
Hydraulic pumps are used mainly in the earth moving industry, which accounts for more than 24% of the total hydraulic pump market globally. They are employed to a lesser extent in the mining, agriculture, and material handling equipment manufacturing industries, as well as the oil and gas industry. Hydraulic pumps are used to minimize energy wastage or fluid leakage and to expand the performance and efficiency of machinery or equipment, all of which can significantly affect overall costs.
Editors and reporters who wish to speak with the analyst should contact Steven Cumming at steven.cumming@bccresearch.com.
About BCC Research
BCC Research publishes market research reports that make organizations worldwide more profitable with intelligence that drives smart business decisions. These reports cover today's major industrial and technology sectors, including emerging markets. For more than 40 years we've helped customers identify new market opportunities with accurate and reliable data and insight, including market sizing, forecasting, industry overviews, and identification of significant trends and key competitors. We partner with analysts who are experts in specific areas of industry and technology, providing unbiased measurements and assessments of global markets. Our clients include the top companies in industries around the world as well as universities, business schools, start-ups, consulting firms and investment companies. Visit our website at http://www.bccresearch.com. Contact us: (+1) 781-489-7301 (U.S. Eastern Time), or email information@bccresearch.com.
Data and analysis extracted from this press release must be accompanied by a statement identifying BCC Research LLC, 49-2 Walnut Park, Wellesley, MA 02481, Telephone: (+1) 781-489-7301; Email: editor@bccresearch.com as the source and publisher. Thank you.