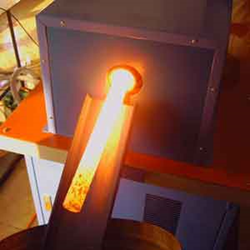 (PRWEB) November 24, 2014
Forging is a manufacturing process involving the shaping of metal using localized compressive forces. Today, forging is a major worldwide industry that has significantly contributed to the development of the manufacturing cycles. (Source from http://en.wikipedia.org/wiki/Forging)
Recently, DW-InductionHeating.com, a leading company that offers a comprehensive range of induction heating and melting equipments, has introduced its new induction forging equipment collection and specially recommended its forging rod end furnace to the global customers. Moreover, all models at this website are offered with big discounts before Dec. 20, 2014.
The forging rod end furnace from DW-InductionHeating.com include the following main parts:
1. M.F Induction Heating Generator (power supply).
2. Compensation Capacitor unit.
3. Heating coil and accessories
4. Pneumatic rod feeder (Handling system)
5. Stand or working table.
Visits can find the main characteristics of this model on the website of DW-InductionHeating.com as follows:

Suitable for rod heating of steel, copper, bronze and aluminum.
Designed to work continuously every day.
Pneumatic rod feeding.
High efficiency, saving energy and cost.
Easy to change heating coil to heat rods of different size.
etc.
Find more details about this model, click
http://www.dw-inductionheating.com/Induction-rod-Forging-Furnace,Forging-Rod-end-Furnace-27.html
"We are excited to announce our forging rod end furnace. All our induction forging furnace models are made with high quality materials and go through strict quality control. We want to serve our old and new customers worldwide in a better way," the company's senior technology manager says.
DW-InductionHeating.com has been a comprehensive high-tech business specializing in designing, researching and developing, producing and marketing of a series of machinery equipments. The aim of the company is to create practical induction heating equipments to help people enhance the level of life.
For more information about the company's latest products, customers can just visit the website of DW-InductionHeating.com.