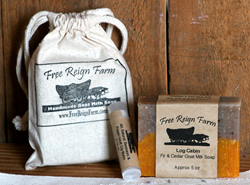 I was appalled at the list of chemicals in bath products marketed to children...
Elizabethton, TN (PRWEB) November 25, 2014
Harmful chemicals and children's skin are things that should never meet, according to a Northeast Tennessee mother. When Bethany Banks examined ingredient lists on skin care products she was buying for her young girls, she thought there had to be a better way.
"I was appalled at the list of chemicals in bath products that are marketed to children – specifically young girls," Banks said.
Those sentiments have been echoed around the country by concerned moms and have created a definite demand for the 100 percent-natural products Bethany, her husband David, and their three girls began producing at Free Reign Farm. They use goat milk for the primary ingredient in their soaps and also produce lotions, aluminum-free deodorants, herbal salves and lip balms for use by children and adults. And it's all handmade.
Banks soon started a successful retail business online. At the same time, the couple have been getting a remarkable response at local tradeshows, as passersby are drawn in to their booth by the aroma of peppermint, lavender and cinnamon – and other enticing ingredients – used to make the goat milk soaps.
Those successes led to the decision this fall to branch out into the wholesale market.
"The response has been overwhelming," she said. "Retailers are excited to carry the products because buyers are asking for them, and several of our new retailers ended up reordering within two weeks because the products were gone."
Branching into wholesale has allowed Free Reign Farm to reach a national audience with its products. The company now boasts exposure in retail stores throughout the country.
"It's been a win-win for us and our retailers," she said. "Customers love the products and keep coming back to buy more."
Keeping retailers supplied with soap around the holidays is a full-time job at Free Reign Farm. At a price point less than $10, these all-natural handmade products are popular as stocking stuffers. Free Reign Farm's retail website also generates a lot of traffic this time of year with gift sets ranging from $6 to $45, all in attractive, reusable packaging products such as metal tins and cloth totes.
To pick up Free Reign Farm products for gifts and stocking stuffers, look for them at retail outlets or order online at: http://www.freereignfarm.com