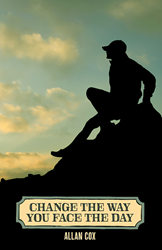 Many Americans feel that life is passing them by... They're not getting any younger... and they're not doing anything about it!
Chicago, IL (PRWEB) November 25, 2014
Cher Cox
312-505-7555
cher(at)allancox(dot)com
"Change the Way You Face the Day" Book Series Launched
"Many Americans feel that life is passing them by….they're not getting any younger….and, they're not doing anything about it," notes CEO counsel Allan Cox.
In a career that has spanned decades working with CEOs and their top teams on Mission and Purpose, best-selling author Allan Cox now shares his wisdom with readers in a series of small reflective books guaranteed to change lives going forward.
"I offer guidance to re-imagine your life – living more fully and learning/knowing who you really are. It takes soul searching to become an effective leader, spouse and parent. It also takes a serious commitment. Change is what people seek, and a changed perception is the only way." Cox offers answers on how to get out of the rut and begin new life discoveries.
Each of the books in the "Change the Way You Face the Day" series will contain 13 chapters which prompt questions readers might not have asked themselves in a very long time – if ever. This first book, briefly, yet deftly, weaves Allan's original poems about life, original 4-color photography and personal perspectives.
Allan asks readers to reflect and ponder, and engage in life more fully. His perspectives help readers reclaim their personal authenticity – then act upon it going forward. He uses poetry he says because, "I'm able to deliver more accessible essence in a one-page poem than in a 20-page article."
Cox also coaxes readers to develop their own Personal Mission Statement. That document then becomes a blueprint going forward. They figure out what their legacy can be, what they're giving back that's memorable. For more than three decades, Cox has facilitated corporate Mission Statement development for companies, then helped them learn to live by them. Here, he's focusing on Personal Missions and Legacy shaping.
Allan's net swings wide for a diverse cross section of audiences and ages. However, he knows that in business, between the ages of 38-42 is when most people make it or break it –big time. By 50, most executives have gone as far as they're going to go – unless they're one of the real hot shots marked for stardom.
"People may spend their whole lives climbing the ladder of success only to find, once they reach the top, that the ladder is leaning against the wrong wall!" Those are poignant and oft quoted words from Thomas Merton. Cox couldn't agree more.
Starbucks took soul searching to a new realm a few years back when they added "The Way I See It" contemplative thoughts from prominent people to the backs of their coffee cups. These messages were read and absorbed by millions of people every day. Allan Cox was fortunate to be included with message #296.
An entire other audience is Baby Boomers – with whom Allan shares a sense of kinship. He has served them well in their earlier years via his previous books. As these millions of Baby Boomers grow, they're moving into new aspects/areas of their lives where they seek new horizons. They're contemplating their legacy, perhaps seriously for the first time, wondering what their own personal mission might look like. They're tossing around ideas about retirement and even the Hereafter. They want a path. They want to know who they are inside and what their legacy will be. AARP has shown that many are repurposing their lives with new zest. 70 is the new 50. Allan's first book in the "Change the Way You Face the Day" series is a great place for Boomers to start the exploration.
As a special bonus, this first book contains a brief user-friendly guide that readers can follow to enhance their growth in small group discussions. Together, in companies, schools, houses of worship, book clubs and just among friends, readers will learn skills they can apply to any other group or endeavor in which they participate on or off the job.
Allan's past immediately separates him from thousands of other self-published authors putting forth yet another book. He's a renowned business expert and author for such major publishing houses as Simon & Schuster, Doubleday, Wiley and St. Martin's Press. Best sellers include "Confessions of a Corporate Head Hunter," "Inside Corporate America," "The Making of The Achiever," and "Straight Talk for Monday Morning." His work has been reviewed favorably by Forbes, The Wall Street Journal, New York Times and Kirkus Reviews which has picked up the chant for his current work "The CEO in You" and his poems about life. To learn more about Allan's other books, clients, philosophy, visit http://www.allancox.com.