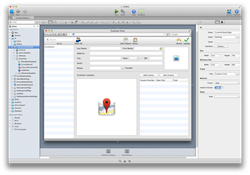 Austin, Texas (PRWEB) November 25, 2014
Xojo, Inc. creator of Xojo, a multi-platform desktop, console, web, and very soon, native iOS, development tool, today announced that all new licenses will be on sale from November 28, 2014, to December 1, 2014, the biggest shopping weekend of the year. All new Xojo licenses (for Desktop, Web, Console and Database Access) will be 30% off of their original price. New Xojo Pro licenses and upgrades to Xojo Pro will automatically include Xojo iOS when it ships, available only through this special offer.
Xojo is easy to use, easy to learn and suited for users with all levels of programming experience, ranging from beginners just getting started on their first app, to expert-level commercial and enterprise software developers. Using just one development tool and one single, powerful programming language, developers are able to create and deliver all kinds of applications - whether it be for the desktop, a web app or a web-mobile app to use while on the run! This enables professional developers to save time and make more money, while also expanding the possible target market for their applications.
Xojo web applications are built the same way desktop applications are built - by dragging and dropping the user interface and then using a modern, straightforward programming language to implement your applications' functionality. Building a web application the traditional way can be complex and time-consuming even for the professional developer. Instead of having to learn a multitude of web technologies, like HTML, CSS, JavaScript, PHP and AJAX, anyone can learn Xojo and build applications for multiple platforms.
Xojo is free to use for learning and development, but a license is required to build a stand-alone application. Xojo offers a 90-day money back guarantee on all new licenses, so if you purchase during this 30% off sale and are not completely satisfied you will be eligible for a full refund. The new license discount will be applied in the store upon checkout. Licenses are available in the following options: Web, Desktop (full and single-platform licenses), Console, Database Access, and Xojo Pro, which includes all of the licenses, added priority technical support, and more.