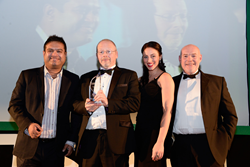 (PRWEB) November 25, 2014
Alan Nixon, PEOPLECERT ITIL Accredited Trainer, has received the Trainer of the Year Award during the itSMF UK 14 Awards ceremony, held in London. Alan is a lead trainer at Fox IT (http://www.foxit.com), a leading organization in Service Management consultancy & training, accredited by PEOPLECERT (http://www.peoplecert.org) to deliver ITIL® courses.
The Award was presented by Axelos Sales & Marketing Director, Kelvyn Lien-Hicks, in a festive ceremony, attended by leaders in the IT Service Management industry, following a PEOPLECERT sponsored successful reception the night before.
'It is a great honour to be awarded itSMF Trainer of the Year 2014, especially when I think of the wonderful trainers who have achieved this in the past. I would like to thank the itSMF for selecting me, everyone at Fox IT, all the customers who supported me, the candidates and PEOPLECERT who were critical to our training services from March 2013 and who continue to support us with excellent service and hassle-free and innovative exam experiences', says Alan Nixon.
'PEOPLECERT is very proud that one more award has been delivered to one of our key partners. This Award is one more proof of the quality of services delivered through our network and shows PEOPLECERT's commitment to the industry to always work with the best providers', says Dimitris Nicolaides, PEOPLECERT's Business Development Director.

About PEOPLECERT
Delivering millions of exams across the world, PEOPLECERT offers globally recognized certifications in 24 languages. Through flexible and secure examination systems, PEOPLECERT also offers a suite of online services that further simplify the exam experience, including web proctored exams, online exam booking, e-certificates and online certificate verification.
About Fox IT
Fox IT SM Limited is an independent Service Management specialist supporting and delivering service transformation with our clients through consultancy, education and tools, underpinned by world-class Service Management and Governance practices based on a range of industry standards, including the IT Infrastructure Library (ITIL®), MOF, ISO/IEC 20000 and COBIT®.
Press contact: Loukia Tsagkli, Tel: + 30 210 3729044, e-mail: loukia.tsagkli(at)peoplecert.org
ITIL®, PRINCE2®, MSP® M_o_R®, P3M3®, P3O®, MoP® and MoV® are registered trade marks of AXELOS Limited.