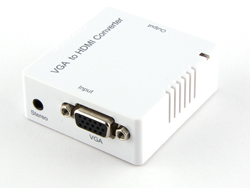 (PRWEB) November 25, 2014
Vivid AV® has announced the release of the VGA + Stereo Audio to HDMI Video Converter. This is the wave of the future and the latest in technology to convert television and computer monitors to theatre level copy. The latest in entertainment innovation is here and available for purchase at ComputerCableStore.com. Consumers won't find a better price anywhere.
This converter box installs in seconds. The device converts VGA input into HDMI with stereo sound quality. It supports most VGA resolutions, HDMI resolutions of 720/1080p, and offers bandwidth of 165MHz/1.65Gbps per channel (6.75Gbps all channels), for all viewing devices.
The Vivid AV® VGA + Stereo Audio to HDMI Video Converter makes it possible to convert input into devices with newer monitors and TV's that no longer are made with VGA ports. "One of the best things is that for a low price customers can convert all their viewing devices, televisions, laptops, computer monitors, and tablets through one small device, without the cost of having to purchase all new electronics, which can run them thousands of dollars and numerous headaches", said Jeramie Cavanaugh, Senior Product Manager.
The VGA to HDMI Video Converter is a must have to get the most out of television, video, or music. Not only will the audio be clearer, but also the picture is heightened by the display of vivid colors, channel options, and large variety of family fun. No need for VGA ports to enjoy hours of relaxing television. Now with the Vivid AV® VGA + Stereo Audio to HDMI Video Converter set up has never been easier. No need to spend money buying new electronics, when Computer Cable Store™ has the solution ready.
"Imagine spending only $35.97 versus over $1,000 to replace older equipment for new property for the sole purchase of watching VGA content. That's a huge savings difference", said George McDowell, President at Computer Cable Store™, "Consumers can have the capability of the future in entertainment in their hands right now."