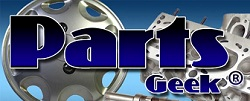 (PRWEB) December 01, 2014
The U.S. manufactured Chevrolet Cobalt was widely recognized as a vehicle that encompassed America's ability to create a vehicle that was both economical yet extremely reliable. However, that is not to say that this once well-known vehicle—which was manufactured from 2004-2010—is exempt from being recalled. In fact, as stated in an article on safercar.gov, GM (the parent company of Chevrolet) is currently recalling all 2005 to 2010 Chevrolet Cobalt models due to them having faulty ignition switches which can thus disturb the operation of the their air bag systems. If there is one thing that the professionals at Parts Geek know, it is that bringing a vehicle in for maintenance due to a recall can be a frustrating process—especially if the vehicle has been discontinued. Also, because the Cobalt is no longer being manufactured, the dealership may make suggestions to replace other parts. However, dealership prices can be high and many people will probably seek out replacement parts elsewhere. Therefore, if looking for Chevrolet Cobalt parts, one place vehicle owners can turn to is Parts Geek as they are now offering over 2,200 Cobalt products.
Parts Geek has products available for all Cobalt model years. Some of the current products that they have in stock include: A/C compressors, air filters, ball joints, brake pad sets, door handles, fenders and a plethora of other products that can be found listed on their Chevrolet Cobalt parts page. Additionally, they also offer many parts from leading brands such as Monroe, Dorman, Action Crash and Centric.
Those who shop on PartsGeek.com can always expect up to 80% off retail prices for many of their products, as well as fast shipping and overall excellent service. In fact, with over 270 reviews and a 4.9 out of 5 star rating for their Cobalt products, there is little reason why anyone would be dissuaded from making a purchase. A recent customer who ordered a Dorman brand wheel had this to say: "Hit a pothole the other day and dented my wheel on my 2010 Chevy Cobalt. Decided to research auto parts and find my own wheel instead of being over charged at an auto shop. Not only did I save over $50, but the part arrived quickly. Will definitely shop here again."
To check out Parts Geek's updated inventory of Chevrolet Cobalt parts and accessories, please visit their website today.
About the Company:
At Parts Geek, they offer the best and most competitive prices on imported and domestic car parts. They also offer automobile accessories, and many of their items ship quickly—all from warehouses scattered throughout the US. Customers can pick from thousands—if not millions, of new automotive parts, refurbished/rebuilt parts, and more from reliable and certified manufacturers. To learn more please visit http://www.partsgeek.com.