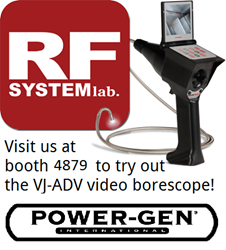 (PRWEB) November 25, 2014
Power-Gen International is taking place December 9-11, 2014 at the Orange County Convention Center in Orlando, Florida. This large-scale event promises to feature over 20,000 power professionals from more than 90 countries, more than 200 of the industry's top speakers, and at least 1,400 exhibiting companies. Among those impressive exhibits is the RF System Lab booth, featuring some of the most advanced technology in remote visual inspection: the VJ-Advance articulating video borescope.
The innovative VJ-Advance video borescope from RF System Lab is a high-quality inspection camera at a price that power professionals can afford. An essential tool for any type of power gen facility, the VJ-Advance line of articulating video borescopes helps maximize efficiency, minimize downtime, and enhance productivity in all facets of the power generation industry; whether you work in the fossil fuel, nuclear, or renewable energy markets. Remote visual inspection is a quick, easy, and non-destructive way to assess turbines, generators and pumps, feed-water heaters, condensers and heat exchangers; primary and secondary piping; motor operating valves; gearboxes; reactor vessels, and other internal components without the costly, time-consuming disassembly of machinery and systems to locate trouble spots.
Power Generation Experts can test out the VJ-Advance video borescope at Power-Gen International by visiting RF System Lab at booth 4879. Borescope experts Casey O'Tool and Chad Parker will be on site to answer any remote visual inspection questions and to help attendees find the best ways to internally inspect their machinery. Exhibits open at 11:30am on Tuesday, Dec. 9th.
If interested companies are unable to make it to Power-Gen International, there is still a chance to test the VJ-Advance video borescope onsite at their facility. Industry professionals can visit the RF System Lab website to sign up for the no-cost, no-obligation demo program. For more information about RF System Lab or the VJ-Advance video borescope, call 888-747-6526.