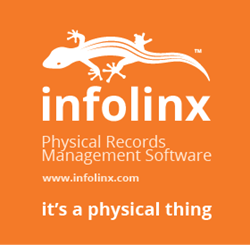 Kensington, MD (PRWEB) December 04, 2014
Today, Infolinx System Solutions, a leading provider of enterprise physical records management software, announced they would be exhibiting at the Empower 2015 Conference. It's the largest Laserfiche training event of the year offering hands-on product instruction and presentations by Laserfiche engineers, experts and customers.
Infolinx System Solutions continues its working partnership with Laserfiche, providing a unified physical and electronic corporate records solution. Scheduled January 13-16, 2015 at the Anaheim Marriott Hotel in Anaheim, CA, the premier educational event provides 150-plus presentations, labs and social events. Infolinx will be showcasing integrated Laserfiche solutions providing enterprise-class records management capabilities for joint clients.
About Infolinx®
Infolinx System Solutions is a leading provider of DoD5015.2-certified enterprise physical records management software. Full life-cycle records management for archives, records centers, and file rooms includes integrated Enterprise Content Management, third-party warehouse integration, robust searching, online requesting, complete audit history, location reconciliation, supply item ordering, retention schedule and legal holds management, integrated RFID technology, space management with charge-back functionality, extensive reporting capability, advanced security configuration, workflow email notifications, and legacy data sharing. Available as an on-premises or cloud-based solution, Infolinx maintains clients within all major business segments and the public sector.Infolinx System Solutions Demo.