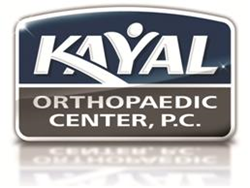 Scotch Plains, NJ (PRWEB) November 24, 2014
NJ Top Docs Presents, Dr. Robert Kayal of Kayal Orthopaedic Center, PC!
At Kayal Orthopaedic Center, PC, they treat and provide a full range of services for, neck and back pain, herniated discs, pinched nerves, sciatica, spinal stenosis, shoulder and elbow pains, rotator cuff injuries, SLAP lesions, biceps tendon injuries, carpal tunnel syndrome, trigger finger, tennis elbow, golfer's elbow, hip labral tears, hip cam and pincer lesions, FAI, knee meniscal tears, ACL tears, fractures, bursitis, tendonitis, arthritis, sprains and strains, sports injuries, knee, hip, and ankle pains, and complicated foot disorders.
Some services they offer but are not limited to:
Minimally Invasive Surgery
Sports Medicine & Arthroscopy
Partial & Total Joint Replacement
Trauma/Fracture Care
Treatment of Spinal Disorders
General Orthopaedic
Bone Density Testing
Platelet Rich Plasma Injection Therapy
Hip Arthroscopy
Foot and Ankle Care
Osteoporosis
Laser Treatment
Customized Knee Replacement
Reverse Total Shoulder Replacement:
Cutting-Edge Care for Severe Shoulder Pain
The most mobile joint in the body, your shoulder is complex and easily injured during sports, physical labor, and repetitive movement. Not surprisingly, it takes a drastic toll on your life when you experience instability or pain in this workhorse joint. Kayal Orthopaedic Center specializes in surgical and minimally invasive treatments for osteoarthritis, rotator cuff injuries, and other debilitating shoulder conditions. One of these specialties is reverse total shoulder arthroplasty (RTSA), which provides excellent results in patients suffering from shoulder arthritis and severe rotator cuff damage.
WHAT IS A REVERSE TSA?
For people with osteoarthritis and severely damaged rotator cuffs, traditional shoulder replacement reduces range of motion and exacerbates pain. In a reverse TSA/shoulder replacement, your surgeon replaces damaged tissue with a prosthetic joint—just like conventional surgery. The difference is that the position of the socket and ball are switched, which allows healthy muscles and tendons to do the work of an irreparable rotator cuff.
WHO SHOULD HAVE A REVERSE SHOULDER REPLACEMENT?
Reverse TSA may be recommended if you have:

Shoulder pain & dysfunction not relieved by medication, injections, or physical therapy.
A major, irreparable rotator cuff tear.
A rotator cuff tear coupled with debilitating osteoarthritis.
A previously failed shoulder replacement.
BENEFITS OF REVERSE TSA

Alleviation of pain
Improved overhead motion
Restored function
Renewed independence
Using the most advanced surgical techniques and equipment, they are proud to bring the reverse TSA expertise to Kayal Orthopaedic Center patients. "Reverse shoulder replacement is a highly successful way to alleviate pain and restore shoulder function, and it is personally gratifying for me to help my patients reclaim their freedom and return to the activities they love."
Robert A. Kayal, MD, FAAOS is the founder, president and CEO of Kayal Orthopaedic Center, PC. He and his team enjoy privileges at renowned hospitals in Bergen County, and Dr. Kayal serves on the medical staff at The Valley Hospital, Hackensack University Medical Center and Chilton Medical Center. Dr. Kayal and his team are proud to provide the region's best joint care for patients of all ages.
Kayal Orthopedics Center, PC is conveniently located in 20 New Jersey Counties. For more information on Dr. Kayal and his practice, please follow the link to his online profile:
http://www.njtopdocs.com/DrKayalFranklinLakes
About Us
NJ Top Docs is a comprehensive information resource of Top Doctors, Dentists and Hospitals. We are profiling over 900 Healthcare Providers and have made it convenient for you to find them.
NJ Top Docs allows patients to "meet" these providers online before making their appointment.
For more information, visit http://www.NJTopDocs.com.
You can also follow us on Facebook – Twitter – YouTube