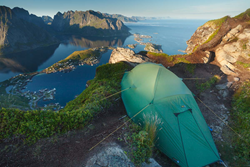 Respect the surroundings, follow the Country Code and leave no trace.
(PRWEB UK) 25 November 2014
Not everyone's idea of a great camping trip involves setting up a luxury home from home with Camping Beds, Coolboxes, Camping Furniture and other Camping Equipment at the nearest campsite. For many of us, thats as close to nature as we need to get, and we still need some home comforts at our disposal (a nice toilet usually being top of the list). For some though, camping is all about getting as close to nature as possible and staying in a remote spot, miles from anyone else, without a shower block in sight and a trowel and a hole in the ground being the only toilet facilites!
The Welsh government are to consult on allowing wild camping on the lakesides, countryside and hills of Wales, which could lead to developments in the law for more parts of the UK to be accessible and legal for campers pitch up randomly.
Wild Camping unfortunately isn't legal in the majority of the UK, but thanks to the Land Reform Act 2003 it is allowed in the whole of Scotland, provided the correct etiquette is observed, which in a nutshell is to respect the surroundings, follow the Country Code and leave no trace of ever being there. The current legislation explicitly outlines that it's people's right to camp on hill land. So provided a camp is set up more than 100 metres from any roads and not too near any property (just use common sense) the beautiful highlands are available for all as their own temporary backyard.
Dartmoor in the West Country is one other exception where wild camping is tolerated in the UK. This vast, granite moorland provides miles after mile of great spots to get away from it all and camp at one with nature. Hopefully soon, parts of Wales may join the list of areas freely accessible to wild campers.
Elsewhere in the UK it's expected that campers ask the landowners permission before setting up camp for the night, so people planning to set up their own impromptu "I'm a Celebrity Get Me Out Of Here" style camp should go and knock on the local farmer's door before getting their hammock set up.
Some sensible guidelines to follow here:
Arrive late and leave early: If camping somewhere there are other walkers around, then try and get set up at dusk and away bright and early so as not to disturb anyone else.
Don't light an open fire without permission: A lot of places favourable for wild camping present a high risk of fire so please don't be responsible for destroying acres of dry scrubland! If it's freezing cold and the desire of an open flame will be calling, then it might be advisable to take along something like the Ezy Stove along - this is a lightweight portable wood burning stove that will keep a fire contained and also doubles up as a camping stove to use pots or pans on.
Leave without a trace : Leave the site as you found it, bag up your litter and take it home or to the nearest bin.
Be considerate of others: Respect the privacy of others, in the unlikely event of being asked to move on, do so without a fuss.
Camp on high ground: Stay on high ground and away from local houses. Aim for higher ground to reduce the risk of getting flooded out.
Choose your toilet carefully: Find a nice sheltered spot at least 50 metres away from water and downstream of popular camping areas. Dig a hole 6-8 inches deep , and of course, cover the hole once you're done. Don't forget to take a trowel or entrenching shovel!
Respect Wildlife: Don't disturb the Flora and Fauna of the area.
In summary, pack light but remember the camping essentials, respect the locals (human, animal and plantlife), leave the place in the same state it was found in, and most of all, enjoy getting out in the elements and back to nature.
Remember there's no need to look further than World of Camping for all walking, hiking and survival essentials.
worldofcamping.co.uk is an online retailer of camping equipment and leisure accessories including expedition tents for hiking and trekking, lightweight stoves and lanterns, as well as camping furniture and storage, 3-way fridges and coolboxes, BBQs, and lots of items for caravans, motorhomes and campervans.