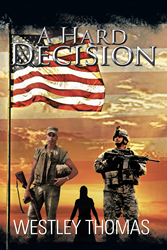 A war veteran returning home needs help, compassion and understanding.
Staten Island, NY (PRWEB) November 26, 2014
What happens after soldiers return home from war?
In A Hard Decision, former U.S. Marine and Vietnam War veteran Westley Thomas tells the fictional story of Vietnam P.O.W. William Dickenson and his wife, Zera, and the challenges they both face during and after the war.
After believing William was killed in Vietnam, Zera and her new husband, Steve, struggle with hard decisions of their own when William arrives at their doorstep years later. Their story also addresses post-traumatic stress disorder and other issues concerning veterans and their families.
"A war veteran returning home needs help, compassion and understanding," Thomas said. "Families, especially spouses, need to be aware and prepared of what to know and expect."
Not only does A Hard Decision act as a tool in helping veterans and their families better understand the plight of those who have served their nation, the book also combines love, war, loss, family, friendship, death and all of the elements of daily life that anyone could humanly experience.
A Hard Decision
By Westley Thomas
ISBN: 978-1-46855-046-7
Available in softcover, hardcover and e-book
Available on Amazon, Barnes and Noble, and AuthorHouse.
About the author
Born in the Bronx, N.Y., and raised on Staten Island, N.Y., Cpl. Westley Thomas served in the Vietnam War from 1966-1968 with the U.S. Marine Corps. He received a letter of appreciation from Commanding General L.B. Robertshaw in 1967 after responding to an airplane crash in the Quang Nam Province in Vietnam. Thomas is a graduate from the College of Staten Island with a bachelor's degree in dramatic arts, and presently volunteers his time as an Advocate for Veterans Rights.
For review copies or interview requests, contact:
Jennifer Uebelhack
317.602.7137
juebelhack(at)bohlsengroup(dot)com