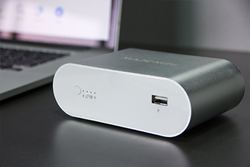 Zhuhai, China (PRWEB) November 26, 2014
MAJC Information Technology, Ltd., an early-stage venture that focuses on innovative cloud technologies, today announced that its MAJC Mini private cloud server is entering production. Intended for home use, the Mini establishes a central, unified storage capability for virtually any device, including PCs, laptops, phones, tablets, and cameras. The company has initiated a crowd funding campaign to support manufacturing of the versatile, compact, Mini.
"We give you what you really want from the cloud, which is all the convenience with much-needed ease of use, control, and security," said Ma Qiang, Co-Founder and CEO of MAJCIT. "With the Mini, we've taken everything that our customers love about the public cloud and delivered it in a compact, economical form factor."
The MAJC Mini features wireless and USB connectivity for devices as well as proprietary user software that is available for Windows, Mac, Android, and iOS. A sample use case might be a Mini user who connects a digital camera at home and transfers hundreds of digital photos that would immediately be viewable and sortable through the MAJC app on an Android phone a continent away. The connection would be automatic, instant, and secure. The MAJC Mini software offers full text search capabilities that apply to most types of documents, files, or photos. Files saved on the device are sorted by file type, tags, and events to facilitate search and discovery. Mini supports remote access, even without a fixed IP so the user can securely access the Mini regardless of location.
Like MAJC's larger 1 TB MAJCBox storage server, the Mini is fabricated out of high quality aluminum casing with a sealed dust-free design that preserves a new look for many years. The server is equipped with high-grade professional hard disks for safety and reliability and a hardened, enterprise-level LINUX server operation system for maximum protection from viruses. The Mini also features https encryption protocol to mitigate the risk of hacker intrusion. Mini has no recurring user fees.
After 24 months of design and testing of prototypes, the Mini is ready for manufacturing. The company has launched an IndieGogo campaign to raise funds for production. Uses of funds include materials, assembly, quality testing and inspection, design and production of packaging, shipping, and software development.
For more information, visit https://www.indiegogo.com/projects/majc-mini-private-cloud-server/x/8089777.