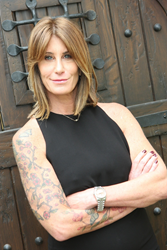 This technology really works and with so many years of hard work to perfect and test it, I can see clearly that it is the answer to the fit problem for the fashion industry (not to mention that women really love it).
Los Angeles, CA (PRWEB) November 24, 2014
Everyone can relate to ordering clothes online and finding out they just don't fit. Wading through return policies, stocking issues, duplicate charges and multiple-postage fees is frustrating for consumers, and a barrier to maximizing sales revenue for online retailers. Luckily all this is over now, as Kym Gold, True Religion Jeans co-Founder is the first licensee of the future of fashion using the Fitlogic Sizing System. Invented by Cricket Lee, Fitlogic is the 12-year in scientific process specifically created to ensure a proper fit every time when buying clothing online.
It has been said that 70% of all ecommerce within the next year will be manufacturer direct to consumer. While this is a death knell to the big retailers, it's a new beginning for consumers. In keeping with this new model, Fitlogic is creating its own retail environment (Fitlogic.com) to launch the technology, and it's new high end offerings, into the marketplace and build consumer awareness and demand.
Simply by answering just five online questions using the Fitlogic Sizing System, 95 percent of women around the world are able to find their exact right size and shape. This confidence in perfect fit sizing increases sales, and most importantly, reduces returns to 10 percent or less. This internationally patented fit system identifies three basic shapes, high hip curve (slimmer thighs), hourglass (mid-hip curve) and pear-shaped (fuller bottom and upper thighs).
"This technology really works and with so many years of hard work to perfect and test it, I can see clearly that it is the answer to the fit problem for the fashion industry (not to mention that women really love it)," says Kym Gold, co-Founder, True Religion Designer Jeans.
Cricket Lee is an industry leader, shaping the future of online shopping - one woman at a time. By using this patented technology women determine their shape, add it to their normal size, and finish with a number such as 8.1, 8.2 or 8.3 for example. Studies show that although 80 percent of the fashion industry's fit models are based on the hourglass shape that only 20 percent of women actually have this shape.
And it's going really, really well. Featured in a Wall Street Journal cover story during test phases, twice on The Today Show, and stories in over 850 national publications and blogs including New York Times, Redbook, More, Forbes and others, Fitlogic has been tested in Macy's, on QVC, at Nordstrom, on Nordstrom.com, in designer boutiques, online and on TV Direct. Consumer acceptance has been immediate from those who've had a chance to experience the Fitlogic approach. Viewers quickly crashed the website to learn more when developer Cricket Lee appeared on the "Today Show."
"We just don't shop one brand anymore, and women think there is something wrong with their bodies when they can't find clothes that fit. It is up to women who want shopping to be different to create consumer demand and adoption of the fit system," says Lee. "We just don't have time for endless try-ons and returns anymore."
True consumer response of the Fitlogic system is being created with the advent of "The Little Black Pant," which has now also been expanded to brown and is available at http://www.littleblackpant.com. Because shipping is free, shoppers had an opportunity to try both the pants and the revolutionary sizing system. Customer feedback has been fantastic, often remarking that this system is the key to making online shopping work for them, on their terms. Fitlogic solves the biggest negative on both sides of the online shopping transaction - sizing.
Kym Gold is proud and very excited to be the first licensee of Cricket Lee's Fitlogic patented fit system. Known in the industry as a pioneer of designer jeans, Kym Gold sees this as the future of online shopping and best yet, allowing women to get clothing that fits, the first time!
About Kym Gold - Kym Gold incepted notable clothing labels including, True Religion Brand Jeans, Bella Dahl, Hippie Jeans, and recently Babakul. Her fashions over the years have been worn by a diverse range of individuals such as David Beckham, Tom Ford, Angelina Jolie, Donna Karan, Heidi Klum, Jennifer Lopez, Madonna, Gwyneth Paltrow, Gwen Stefani, Holly Robinson Peete, and Justin Timberlake. Her designs have been featured in top fashion magazines, including Vogue, Elle, Harper's Bazaar, In Style, and Rolling Stone.
Currently, Kym has combined her 25 years of experience as a principal owner and designer of many prosperous ventures, along with her entrepreneurship to embark on new path of domestic and International consultation for new up-start fashion companies, and brand and marketing consultation for existing companies. Kym will be the first top designer to implement the Fitlogic sizing system into her new line.
About Cricket Lee - Cricket Lee is internationally known for created a fitting standard designed to include size and body type. The technology was developed over a twelve-year period, beginning in 2002. During her career, Lee has created marketing campaigns for British Airways, PriceWaterhouseCoopers, JCPenney, Ralph Lauren, Saks 5th Avenue, Sara Lee Corporation (Hanes, Bali), Haggar Clothing Company, Warner Brothers and others. She was the first to create and pitch the concept of putting fitness programs into infomercials with Susan Powter. She also oversaw the marketing of Multiples by Sandra Garrett, which grossed over $240,000,000 in retail sales in late 1980s. Lee holds world patents and 72 awards for creative excellence in advertising including a National Addy Award.