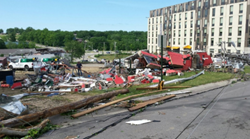 The community has been supportive of us during trying times, and it's an honor to be able to give back by providing quality lawn and tree care services.
Platteville, WI (PRWEB) November 24, 2014
On June 16, 2014, a tornado devastated the city of Platteville. Included among the many businesses impacted was Steve and Justin Peterson's Spring-Green Lawn Care, which was nearly wiped off the map. Yet in the face of their adversity, the company is now doing better than ever.
The Platteville tornado formed a mere one quarter mile from the Peterson household, but, luckily, did not touch down near their home. Unfortunately, it did make a direct hit on the Petersons' Spring-Green office. When Justin arrived at the office the next day, he was amazed at the destruction he saw: three of the company's five trucks were totaled; the company's ride-on spreader was destroyed; and, save for some fertilizer and a few supplies, everything else was gone. Even the computer had to be dug out of the rubble.
For most business owners, destruction like the Petersons faced would have been enough to make them throw in the towel. But Justin saw it differently. "My dad has been running the business for over a decade and we've always operated with a drive to work through the tough times," says Peterson. "He knew how important it would be to keep the business going in the face of adversity."
Peterson is quick to note the help his business received from others to get it going again. "The support we received from the community and from the Spring-Green support center was fantastic," Peterson notes. "Friends, family and even local farmers helped clean up the wreckage. And RJ Krone, director of franchise operations at the support center, drove the four hours north to help us set up our new computer and get us back on our feet."
In spite of the challenges their Spring-Green faced, business is up almost 10% over last year. This, Justin says, is a trend he looks to continue as he takes over the role his father has held for almost thirteen years. "There's a lot of room in the Platteville area for growth," notes Justin. "The community has been supportive of us during trying times, and it's an honor to be able to give back by providing quality lawn and tree care services."
In terms of lessons learned, Peterson says that the tornado illustrated the importance of knowing how to be prepared in the event of a calamity. Moreover, Peterson stresses the importance of backing-up important data regularly, ideally at an offsite location. Though these lessons were learned during a traumatic time, he says, things could have been a lot worse. "We owe a lot to everyone who helped us. A business is only as good as the community it serves, and it's clear we have a great one." And if there's a bright side to the story, Justin and his dad had a fishing trip planned the same time the tornado hit. "In preparing to be out the office, we were about two weeks ahead on production," said Justin. Ironically, those two-weeks were the exact amount of time the Petersons' needed to get the business up-and-running.
About Spring-Green Lawn Care
Founded in 1977, Plainfield, Illinois-based Spring-Green Lawn Care has been delivering lawn and tree care services nationwide for over 37 years. Its service is centered on the beautification of residential and commercial customers in middle-class and affluent neighborhoods and communities. Spring-Green is an attractive opportunity for entrepreneurs and existing green industry business owners who want to align themselves with a franchise opportunity that has proven economic resilience, healthy profit margins, industry leading business and marketing intelligence, recurring revenue and retirement & family planning through business ownership. Spring-Green currently has 127 franchises operating in 25 states. Spring-Green Lawn Care franchise owners gave the franchise opportunity a 96 percent overall quality rating, according to the Franchise Research Institute September 2013 survey. For more information, visit http://www.springgreenfranchise.com.