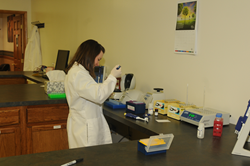 When accuracy and conclusiveness of DNA test results is the objective...the Elite 44 marker test from Universal Forensics is the ultimate solution
Somerset, PA (PRWEB) November 26, 2014
Within weeks of announcing their new enhanced 24 marker testing covering both legal and non-legal DNA paternity cases, Universal has just recently released to its distributor lab partners their new "Elite 44" marker DNA test covering most other relationship testing such as Sibling, Grandparent and Avuncular (Aunt / Uncle).
For anyone seeking answers to their personal family relationship questions, they expect and deserve the absolute highest degree of accuracy and conclusiveness possible. In the science of genetics and DNA analysis, common sense would dictate that with a greater number of markers being tested...a higher degree of statistical accuracy will result. Julie Cramer, Universal's President commented, "In some businesses the old axiom of less is more may apply, but in the world of forensics and DNA testing, MORE is BETTER! Testing with more markers assures our distributor lab partners and their clients that they are receiving the most accurate and reliable test results available in our industry".
When asked why the push for, and focus on, an increasing number of markers for DNA testing, Zach Gaskin, Universal Forensics Chief Scientific Officer commented, "We work in a highly competitive environment, and one of the ways we have chosen to differentiate ourselves is through continual innovations and improvements that are focused on benefiting our distributor lab partners and end users. Our Paternity 24, and now our Elite 44, marker enhancement is just one more way for our distributors to provide a value-added benefit to their clients, and is consistent with our Customer First Philosophy".
Universal Forensics Corp. is an accredited AABB (American Association of Blood Banks) laboratory headquartered in Somerset, Pennsylvania. Additional information can be obtained through the company website http://www.ufclab.com or by contacting services(at)ufclab(dot)com