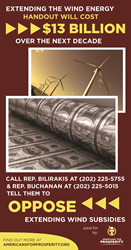 Arlington, Va. (PRWEB) November 24, 2014
Americans for Prosperity is expanding its effort to urge dozens of lawmakers to oppose renewing billions of dollars in wind subsidies that were allowed to expire last year. The group launched print ads today in newspapers across the country, adding to a six-figure digital ad buy that began last week. The investments complement a surge in grassroots activity around the issue this month.
The new print ads (right) appear in major newspapers in eight states today, including the Tampa Bay Times (Reps. Gus Bilirakis and Vern Buchanan), Houston Chronicle (Reps. Kevin Brady and Michael McCaul) and Columbus Dispatch (Rep. Bill Johnson). The group is asking the public to call these lawmakers and urge them to oppose renewal of the Wind Production Tax Credit (PTC).
AFP Federal Affairs Director Brent Gardner said the following:
"It's important that these members go on the record to let their constituents know that even during the little-watched lame-duck session of Congress, they're committed to opposing needless corporate handouts at taxpayer expense. Americans have been on the hook for these wind subsidies for two decades with little to show for it. While large corporations have gotten comfortable collecting our tax dollars, the industry hasn't made it in the market, failing to produce long-term job creation or energy affordability. Decades of these broken promises came to an end last year, and we're urging Congress to let things stay that way."
Americans for Prosperity's position is that the Wind PTC is a corporate handout that threatens electricity reliability and crowds out free-market solutions to America's energy needs.
AFP plans to sustain a robust effort in the coming weeks, urging Congress to keep the Wind PTC out of an omnibus tax extenders package that is expected to receive floor votes before the end of the 114th Congress. More action may be announced in the coming weeks.
BACKGROUND
AFP Launches 15-State Ad Buy on Wind Subsidies (americansforprosperity.org, Nov. 13, 2014).
The organization launched a 15-state digital push last week, targeting 25 members of Congress with the same message. Those ads will continue on online platforms like YouTube for several more weeks.
AFP Releases Letter of Opposition to Wind PTC (americansforprosperity.org, Nov. 10, 2014).
The group's letter of opposition, submitted to members of Congress, can be read here.
AFP Committed to Educating Americans on Lame-Duck Activity in Washington
The Wind PTC effort is part of a larger push to inform voters about the tax-and-spend proclivities that Congress tends to indulge during lame-duck sessions when some members feel shielded from accountability.