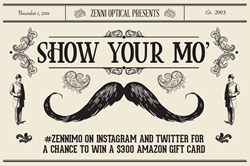 Novato, Cal. (PRWEB) November 25, 2014
Few things go better with glasses than well-groomed moustaches. And there is no better time to show off a moustache than Movember, the month-long campaign to raise awareness of men's health. Zenni Optical plans to donate up to $10,000 to the Movember Foundation while also promoting Movember with the Show Your Mo' contest. Those who are proud of their Movember 'staches should share them on Instagram and Twitter with the hashtag #ZenniMo. Each hashtag earns $5 for the Zenni Movember campaign and can win the poster a $300 or $100 Amazon gift card.
Movember is all about change: During November, men are encouraged to change up their appearance by growing a moustache. This change reminds them, and others, to change the way they think about men's health issues such as testicular cancer, prostate cancer and mental health. Lots of guys go wild with their facial hair during Movember, which only adds to the fun.
Zenni Optical knows a thing or two about changing things up: We offer hundreds of eyeglass styles at low prices so that our customers can experiment with new looks. When you combine eyewear with facial hair, the possibilities really explode. We also believe in supporting health initiatives, which is why we are proud to sponsor Show Your 'Mo this November. Hundreds of participants are already showing off their facial hair selfies, and we are constantly broadcasting new entries.
Folks who are interested in following our quest to contribute $10,000 to the Movember foundation should visit http://www.zennioptical.com/movember. Visitors can check out some great moustache photos from contest participants and enter to win the drawing.
Founded over a decade ago, Zenni Optical provides sells fashionable, high-quality, low cost eyewear online. Zenni's own brand of eyewear draws raves from fashionistas, athletes, students and seniors alike. Visit us online at http://www.zennioptical.com.