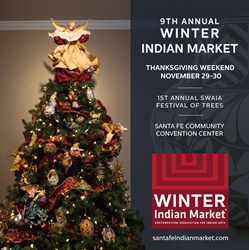 Santa Fe, NM (PRWEB) November 25, 2014
Thanksgiving weekend marks the 9th annual Santa Fe Winter Indian Market®. The event features 200 Native artists, live music and dance performance, free gift wrapping, children's activities, and a Saturday evening concert with Iron Horse, award-winning Native musicians Robby Romero and Robert Mirabal. In addition, there will be a silent auction of donated art, gift certificates, airline packages, and holiday trees and there is truly something for everyone.
New to Winter Indian Market® this year is a Festival of Trees contest and auction. Beautiful holiday trees have been generously donated by a variety of businesses and individuals. Visitors and artists will participate in a contest to select the best traditional Christmas tree, the best themed tree, and the SWAIA artists' favorite tree.
Examples of entries include an extraordinary tree donated by Things Finer (200 San Francisco St, Santa Fe), a traditional tree loaded with over $2,000 worth of hand-made, one-of-a-kind ornaments. Rio Grande Jewelry Supply donated the "Jeweler's Dream" tree, a theme tree covered with jewelry-making supplies and set on a special jeweler's stool called an "anvil stump".
Additional trees in the festival include an artistic tree by renowned pueblo potters Dominique Toya and Nancy Youngblood, a pair of male/female Cherokee trees donated by La Fonda on the Plaza and decorated by Gwendolyn Grayson of the Cherokee Nation of Oklahoma, as well as trees beautifully decorated and donated by Buffalo Thunder Resort and Casino, the Hilton Historic Plaza, and Allan Houser Gallery. The trees will be on display throughout the weekend, culminating in an exciting silent auction closing Sunday at 2pm.
Winter Indian Market®, Thanksgiving weekend, November 29-30,
Saturday, Nov 29 9a–5p Sunday, Nov 30 10a–5p
Santa Fe Community Convention Center. 201 W. Marcy
Admission: $10 daily / $15 weekend pass. Members and children (under 12) are free.
Tickets available at the door.
Iron Horse Benefit Concert & Reception, Sat Nov 29, 5-7,
O'Keefe Ballroom, Santa Fe Community Convention Center
Tickets $15 at the door
About the Santa Fe Indian Market® / Southwestern Association for Indian Arts
In their 94th year, the Southwestern Association for Indian Arts produces the annual Santa Fe Indian Market®, the largest and most prestigious Native fine art show in the world. The Santa Fe Indian Market® exists to provide a platform for established and aspiring Native/Indigenous artists to nurture and sell the art they create. http://www.santafeindianmarket.com http://www.facebook.com/SWAIA