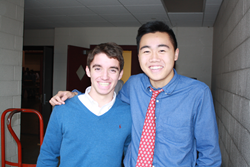 Helping to orchestrate the food drive and helping those in need gives me a greater sense of perspective and a realization of just how lucky I am.
Hunting Valley, Ohio (PRWEB) November 26, 2014
Continuing a 30-year tradition, students at Cleveland's University School recently conducted an annual food drive to benefit Cleveland families for the Thanksgiving holiday. Students and staff raised about $7,500 to buy turkeys, potatoes, canned goods and other items to feed 240 families over the Thanksgiving weekend. Most of the families live in the Mt. Pleasant neighborhood of Cleveland, located on the border of Shaker Heights, Ohio, on Kinsman Road to 130th Street.
At the school's Hunting Valley and Shaker Heights Campuses, students sorted and packed food boxes, which were delivered to Mt. Pleasant NOW for distribution to the families. Since 2005, University School has worked specifically with the non-profit organization to make the Thanksgiving holiday a little brighter for its residents.
At University School's Hunting Valley Campus (grades 9-12), students raised funds to purchase enough food to feed 180 families. At the Shaker Campus (kindergarten- grade 8), canned foods and non-perishables were donated to prepare food baskets for 60 families total.
Contributions came from students, their families and fundraising activities. Students at the Upper School participated in a "sparse" lunch. The money used for their normal lunches is donated to the food drive instead.
"I think it's very important for us to take on the food drive each fall," said US senior Ryan Onders who helped organize the effort. "We are extremely lucky. Not only are we able to attend a school like US, but we are also able to eat three full meals a day. Very few of us have ever gone to bed hungry. But for many, that is a daily reality. The US Thanksgiving food drive is an opportunity to alleviate that hunger and provide families with the basic need of food, even if just for one week."
Ryan's classmate and fellow organizer, Eric Ma, agreed, saying, "Eating good food at Thanksgiving is more than just nourishment; it represents the warmth and joy that only a family can provide. By taking some of the pressure off the Mount Pleasant families to buy these meals with their own money, it makes me happy to know that they can hopefully feel the same warmth that I do every year at this time."
"The food drive is a meaningful tradition that brings the two campuses together to make a difference for our Cleveland neighbors," said Nicole Lawrence, US's Director of Community and International Partnerships. "Students participate and help lead every step of the process, from organizing fundraisers and marketing efforts, to donating food or money, to boxing the items and delivering the boxes to Mount Pleasant NOW Development Corporation."
Bruce Wilhelm, Head of the Shaker Campus, added, "This is a great way for our boys to connect to the larger community of Greater Cleveland and to work together on a purposeful activity that benefits those in need of a wonderful Thanksgiving meal."
About University School:
Founded in 1890, University School is an independent day school, educating boys in kindergarten through grade 12.
University School inspires boys of promise to become young men of character who lead and serve. Our dedicated faculty, rigorous curriculum, and experiential programs foster intellectual, physical, creative, and moral excellence. University School is a diverse and inclusive community where each boy is known and loved.
University School has two suburban campuses in Cleveland, Ohio: the Shaker Heights Campus for boys in kindergarten through grade 8, and the Hunting Valley Campus, which is home to students in grades 9-12. Visit our website for more information.