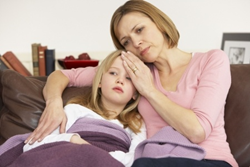 Those who receive the vaccine have a decreased chance of getting sick, and a decreased chance of becoming a host to pass the virus. -Dr. Marta Katalenas
Austin, TX (PRWEB) November 24, 2014
The Pediatric Center of Round Rock received Quadrivalent, an injectable flu vaccine, later than expected this year due to distribution delays experienced by vaccine manufacturers. Some Austin area pharmacies and distributors provided a readily available vaccine called Trivalent to customers, providing a safeguard against the virus early in the season, instead of waiting for the Quadrivalent vaccine.
In a recent article, Dr. Marta Katalenas provided parents with information about why Quadrivalent was worth waiting through distribution delays for. "The Trivalent vaccine includes only 3 strains of flu virus," she explained, "While they are both effective, the Quadrivalent vaccine includes 4 strains of flu virus, making it easier to offer protection against both the A and B types of virus."
The pediatrician further explained that instead of offering a vaccine that did not include all four flu virus strains, "we decided to wait for the Quadrivalent version to be available, to insure our patients would have the increased protection it offers."
In addition to the availability of Quadrivalent, flu vaccine effectiveness concerned many Austin area parents. Dr. Katalenas assured parents that despite low rates of effectiveness, all people should receive a flu vaccine via injection or inhalation.
"While it is impossible to exactly predict which viruses will predominate at a given season, the selection of the strains to include in the vaccine is not a random one," she explained, "The CDC studies samples of viruses circulating for the season and publishes how effective the vaccine has been at the end of the season. Even when the Vaccine Effectiveness is low, say 60%, what it means is that the vaccine still reduces the chances of getting sick by 60%."
Dr. Katalenas also stated that the flu vaccine provides a public health benefit. "Those who receive the vaccine have a decreased chance of getting sick, and a decreased chance of becoming a host to pass the virus to those who can't receive the vaccine due to illness, those with a weak immune system, people receiving chemotherapy and babies who are too young to be vaccinated," she said.
As of November 2014, the center has administered the injectable flu vaccine Quadrivalent and FluMist, the inhalation version for those older than 2 years of age and free of asthma or reactive airway disease.
About Dr. Katalenas
Dr. Marta Katalenas is a board-certified pediatrician and owner of the Pediatric Center of Round Rock. She is a public speaker and author of the book "The Step Up Diet: From Scratch… The Quality, Quantity, and Timing Solution to Childhood Obesity," a guide to healthy cooking and eating for busy families. To book a flu shot appointment, visit http://www.pediatriccenterofroundrock.com today.