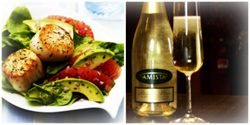 HEALDSBURG, Calif. (PRWEB) November 25, 2014
This holiday season, The Winegrowers of Dry Creek Valley® (WDCV) invite wine lovers to share in their holiday traditions with family recipes, pairing recommendations and special events. Within this sub-AVA of Sonoma County are more than 60 family-owned boutique wineries, some of whom have called Dry Creek Valley home for several generations. Some of the recipes, pairings and events featured include:
-Amista Vineyards shares a seafood salad recipe perfect for brunch or as a dinner appetizer. With mache lettuce, avocado, sea scallops and grapefruit, it's a melange of California flavors, pairing nicely with Amista Sparkling Blanc de Blanc.
-Collier Falls Winery offers Barry Collier's recipe for holiday turkey, brined in brown sugar and filled with an Italian Thanksgiving stuffing. The aromatic spices are a perfect pairing with 2007 Collier Falls Private Reserve Zinfandel.
-Mill Creek Vineyards and Winery provides the recipe for proprietor Bill Kreck's all-time favorite dessert--a baked persimmon pudding the Kreck family makes every Christmas Eve. It's equally delicious whether paired with the off-dry Mill Creek Estate 2012 Gewurztraminer or, for something sweeter, Mill Creek 2010 "4739" Port-style dessert wine.
-Ridge Vineyards assembled a 6-bottle Holiday Pairing Pack which includes three wines from their Dry Creek Valley vineyards and recipes for a divine six-course holiday dinner.
-DaVero Winery hosts their 5th annual Day After Thanksgiving Party on November 28, to unwind with loved ones after a day of hard work and decadent eating. In 2013, nearly 300 guests attended this family- and dog-friendly pizza party. Local favorite mobile food truck Rosso Pizzeria will make a special appearance, offering freshly-baked pizza.
-West Wines proprietors Katarina Bonde and Bengt Akerlind invite visitors to join them in Swedish-heritage Christmas traditions. The weekend of November 28-30, the tasting room will serve Swedish Glögg--a traditional hot-mulled wine--and ginger cookies to honor the Swedish tradition of opening one's home to friends for four Sundays leading up to Christmas.
This season, wine club memberships to WDCV member wineries are the gifts that keep on giving; besides being showered with incredible wines throughout the year, all wine club members are eligible to buy pre-sale tickets to Passport to Dry Creek Valley in April, 2015. The pre-sale period for ticket purchase begins November 24 and tickets are available on a first-come, first-served basis. Tickets will be available to the general public starting February 1, 2015.
About Winegrowers of Dry Creek Valley:
The Winegrowers of Dry Creek Valley® (WDCV) is an association of more than 60 wineries and 150 growers, of which more than 95 percent are small, family-owned operations. WDCV is dedicated to advancing the recognition, enhancement and preservation of Dry Creek Valley as a premium winegrowing region. Anchored by the charming town of Healdsburg, the Dry Creek Valley appellation was officially designated in 1983. Known as a premier zinfandel growing region, Dry Creek Valley is one of California's oldest wine producing regions and is home to many heritage vineyards ranging in age from 50 to 120 years. To preserve this history and the valley's pristine beauty, the Winegrowers of Dry Creek Valley supports sustainable viticulture and low-impact farming practices. For more information, visit http://www.drycreekvalley.org