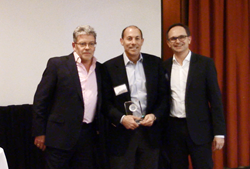 Always Looking Deeper to build value for our clients.
Woodbury, NY (PRWEB) November 25, 2014
TGS Global is the 18th largest international accounting network, as ranked in the Accountancy Age World Survey 2014. Formed in 2012, TGS was created to meet the needs of an increasing number of accounting firms that wanted to be part of a business development-focused network helping members to target and win multi-national clients. International Accounting Bulletin recently rewarded TGS-Global with the "Rising Star Network" award. The judges honored TGS because of its strong global growth, clear modern brand and focus on supporting small and medium-sized enterprises (SMEs) around the world.
Howard Fine, Partner-in-Charge of the Accounting & Auditing Group at Gettry Marcus CPA, opened the second day of the conference with his presentation, Minimizing the Accountant's Liability, which addressed the risks of the profession and how firms can mitigate those risks.
Gettry Marcus, admitted as the first U.S. member firm, joined TGS in March 2014. Steven L. Marcus, Managing Partner, is also a member of the organization's Executive Board, which is instrumental in shaping the future direction and growth for TGS. TGS is unique in that they have been building a network of firms around the world that share the same vision, values and a mutual interest in helping companies and clients successfully develop on a global scale.
ABOUT GETTRY MARCUS
Gettry Marcus CPA, P.C. is a Top 200 firm nationally with offices in Woodbury, Long Island and New York City. We provide accounting, tax, and consulting services to commercial businesses, high net worth individuals and various industries which include Real Estate and Health Care. We have one of the premier and most credentialed Business Valuation and Litigation Groups in the New York Area.
Our experience in diverse industries and a highly talented and experienced professional staff gives us the ability to share valuable insights into our clients' businesses, to better understand their goals and problems and to help them attain the vision they have for their company.
Gettry Marcus is "Always Looking Deeper" to build value for our clients.