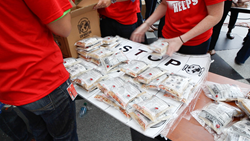 (PRWEB) November 24, 2014
Stop Hunger Now and the Leawood Rotary Club are joining forces in the fight against hunger. The event called "Black Out Hunger" will bring together more than 120 community leaders to package meals for the world's hungry on Friday, November 28 at Stop Hunger Now Kansas City's warehouse at 11888 W 91st Street in Overland Park from 8:30AM to 2:30PM. While others are fighting the Black Friday shopping crowds these volunteers will be donating their money and time to help those in need around the world. Stop Hunger Now meal packaging events are a volunteer-based program that coordinates the streamlined packaging of highly nutritious dehydrated meals comprised of rice, soy, vegetables and 23 essential vitamins and minerals.
"My daughter participated in a Stop Hunger Now meal packaging event when she was in high school. At first she was reluctant, but after getting started working the high energy assembly line and celebrating our packaging milestones with the gong she was hooked," said Brad Moore, Leawood Kansas Rotary Club. "She is now a college freshman and is making a special trip home to participate in the "Black Out Hunger" event. I am proud that through the Stop Hunger Now meal packaging event she developed a passion for ending hunger and is dedicated to giving back in her life."
Around the world, nearly 805 million people lack adequate food. Stop Hunger Now operates meal packaging locations in 19 cities throughout the U.S. and four international locations in South Africa, Malaysia, the Philippines and Italy. More than 450,000 volunteers from corporations, churches, schools and civic organizations have packaged Stop Hunger Now meals.
Founded in 1998, Stop Hunger Now has delivered aid and disaster relief supplies in the form of food, medical supplies, clothing, school supplies and more to thousands of disaster victims and other hungry and vulnerable people in 65 countries.
Black Out Hunger sponsored by the Leawood Rotary Club
November 28, 2014 – 8:30am to 2:30pm
This is the second year the Leawood Rotary has partnered with Stop Hunger Now on Black Friday. Last year's event drew 100+ community volunteers who packaged more than 10,000 meals.
"What we want everyone to know is that hunger is solvable and is the common thread among the world's most challenging issues," says Rod Brooks, President and CEO of Stop Hunger Now. "When hunger is targeted, you give leverage and hope to every other cause including poverty, disease, education and the welfare of women and children."
For more information contact Baylee DeLaurier, Kansas City Program Manager with Stop Hunger Now kansascity(at)stophungernow(dot)org or (913) 871 8107
For more than 15 years, Stop Hunger Now has been creating a movement to end hunger with more than 140,000,000 meals distributed along with other aid to 65 countries. Driven by a mission to end hunger in our lifetime, the organization provides food and life-saving aid to the world's most vulnerable and helps mobilize the necessary resources impacting millions of lives.
Stop Hunger Now meal packaging programs offer volunteers the opportunity to participate in a hands-on international hunger relief program and to become educated, engaged advocates for the world's poor and hungry. In 2013, Stop Hunger Now packaged 38.6 million meals in the U.S. and an additional 3.3 million meals were packaged by international locations.
In its efforts to respond to emergency needs around the world Stop Hunger Now receives and distributes significant donations of in-kind aid. These donations are large quantities of food, medicines, medical supplies and other such items as may be of use in fighting hunger and providing relief in a crisis.