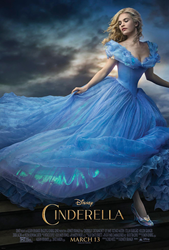 I dare you not to get goosebumps!
Hollywood, CA (PRWEB) November 26, 2014
What's the name of that song? That is a question you might be asking yourself when you hear music in a movie trailer. Audiences worldwide were captivated by the music in Disney's Cinderella trailer after it's debut online last Wednesday (November 19, 2014). "In its first 24 hours, the trailer for Cinderella was viewed 4.2 million times on YouTube and 33 million times on Facebook, the biggest showing in history for a Disney movie, excluding Marvel releases, and a fairy-tale start for any film" (The Hollywood Reporter). Within that first day, "Aeon" by Nick Murray ft. Juliet Lyons, the song featured in the Cinderella trailer, jumped straight to #41 on the iTunes Soundtrack charts.
Nick Murray, CEO of Switch Music Group, a trailer music publishing company attributes the success to "the power of social media marketing." Murray started his trailer music label "switch." in 2012 to "bring his ideas to the trailer music industry," an industry mostly hidden from the public. "Most people believe that the music in movie trailers comes from the movie itself," Murray states, "but we actually write and produce the music ahead of time and license it to various films." Murray's company "switch." (http://switchtrailermusic.com) has developed into Switch Music Group (http://switchmusicgroup.com) and now publishes specifically movie trailer music from smaller independent trailer music companies from around the globe.
"We are very excited about the Cinderella trailer placement," Murray said, "We feel that writing creative, powerful, emotional music transcends the screen and touches people on a deep, emotional level." With a shortened format, movie trailer music is written to sell big Hollywood movies and has to reach various audiences within the allotted two-and-a-half minute timeframe of a trailer. Often, this is described as "Epic Music". Murray explains that "Epic Music is gaining popularity worldwide. There are multiple YouTube channels devoted to playing the newest Epic Music." New services, like Shazam, also enable those not familiar with the music to discover it and buy it directly from their smartphones.
In "Aeon", featured in the Cinderella trailer, Murray adds the sublime, yet powerful vocals of Juliet Lyons. The song starts out with ambient, spacey drones and soft piano, but builds with a live 60 piece string orchestra and rousing choir. After listening to this piece Murray challenges, "I dare you to not get goosebumps!"
"Aeon" is now available on iTunes, Amazon, and Spotify.