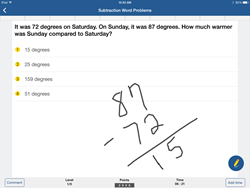 Wakefield, MA (PRWEB) November 24, 2014
In further support of personalized learning styles in the differentiated classroom, JogNog's iPad app now allows students to draw directly on-screen while answering quiz questions. Visual learners can draw diagrams and work out equations with just a simple tap of the scratchpad icon.
The scratchpad tool adds to the JogNog Achievement System's portfolio of capabilities to support different learning styles by students, including differentiated assessment, a wide range of question types, and flexible incentives.
"For many students, scratch paper complements their thinking process," noted Stephen Smith, CEO of JogNog. "With the scratchpad feature on the iPad, we've enhanced our online assessment system to allow for more free and unconstrained thinking and to further support personalized learning."
About JogNog
JogNog provides a comprehensive system for formative and summative assessment that motivates students to learn in an engaging and fun way. Specifically designed to meet teachers' needs, JogNog delivers quizzes aligned to Common Core and state curriculum standards for grades 2 through 12. JogNog uses the latest in educational research to create competitive learning games that enhance student assessment and learning. It is available on the web, iPad, iPhone, Android, Kindle Fire, Windows Phone, and the educational tablets Amplify and Kuno. For more information about JogNog, visit http://www.JogNog.com.