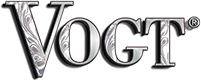 Customers will be able to easily navigate the site and benefit from a website that is also mobile friendly. Not only will they be able to shop for items more efficiently, but they will also have a chance to learn more about our products and company
Woodland, CA (PRWEB) November 24, 2014
Vogt Silversmiths is pleased to announce their new website, which has been entirely redesigned to make it more user-friendly and interesting.
The decision was made to update the website in order to keep it current and provide more convenience for their customers. The new site launched on October 1.
The improvements include a new navigation bar, detailed product descriptions, and photo enlargements for every product, allowing customers to zoom in on the details of the hand-engraved products. To make ordering easier, The Vogt Silversmiths catalog can now be downloaded in full right from the website, and the online checkout system is now only one page.
They have added some new pages to the website, as well. There is an "About Us" section, where customers can learn more about the company, and about the family that has owned it since 1970. This page also includes a video that takes customers behind-the-scenes, into the Vogt Silversmiths shop to see the pieces being produced.
They've added a new section where consumers can download examples of custom-made pieces to use as their own inspiration to design their very own unique item. There is also a new "Men's Corner" section that has unique accessories for the bar area, smoker's den, etc.
A "What's New" section will feature new and interesting items that the shop is offering. This section currently features refurbished antique handbags that are fully upcycled and refurbished.
Vogt Silversmiths owner Casey Vogt is excited about how the new website will allow customers to connect not only with their products, but the company itself.
"Customers will be able to easily navigate the site and benefit from a website that is also mobile friendly. Not only will they be able to shop for items more efficiently, but they will also have a chance to learn more about our products and company," said Vogt.
About Vogt Silversmiths
Vogt Silversmiths sells belt buckles, men's accessories, western jewelry, leather items and more. Many of their pieces are handmade and hand engraved, and Vogt Silversmiths purchases are protected by a lifetime guarantee. To learn more about their products, visit vogtsilversmiths.com