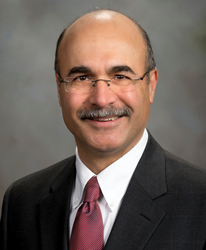 Dr. Ahmadian holds the position of Director of Center for Vehicle Systems and Safety (CVeSS), and the Railway Technologies Laboratory (RTL) at Virginia Tech.
WARRENDALE, Pa. (PRWEB) November 26, 2014
Mehdi Ahmadian, PhD, Dan Pletta Professor of Mechanical Engineering at Virgina Tech, has been named the winner of the 2014 SAE International L. Ray Buckendale Lecture Award.
Dr. Ahmadian received the award at the SAE 2014 Commercial Vehicle Engineering Congress, held in Rosemont, Ill. He presented his technical paper, "Integrating Electromechanical Systems in Commercial Vehicles for Improved Handling, Safety, and Comfort."
The award provides for an annual lecture dealing with automotive ground vehicles for either on- or off-road operation in either commercial or military service. The intent is to provide procedures and data useful in formulating solutions in commercial vehicle design, manufacture, operation, and maintenance. L. Ray Buckendale, 1946 SAE President, by his character and work, endeared himself to all who were associated with him. Foremost among his many interests was the desire to develop the potential abilities in young people. To this end, the lecture is directed primarily to the needs of young engineers and students, with emphasis on practical aspects of the topic.
Dr. Ahmadian holds the position of Director of Center for Vehicle Systems and Safety (CVeSS), and the Railway Technologies Laboratory (RTL) at Virginia Tech. He is the founding director of CVeSS, RTL, Virginia Institute for Performance Engineering and Research (VIPER), and the Advanced Vehicle Dynamics Laboratory (AVDL). He has authored more than 120 archival journal publications and more than 200 conference publications, and has made more than 200 technical presentations in topics related to advanced technologies for ground vehicles.
Dr. Ahmadian holds ten U.S. and international patents, and has edited four technical volumes; he currently serves as Editor-in-Chief for Journal of Vibration and Control, Editor for the International Journal of Vehicle System Dynamics, Editor-in-Chief of Shock and Vibration journal. In the past, he has served as Associate Editor for the ASME Journal of Vibration and Acoustics (1989 – 1996), the AIAA Journal (2000 – 2008), and Journal of Shock and Vibration (2003 – 2011). Dr. Ahmadian is an SAE International Fellow, a Fellow of American Society of Mechanical Engineers (ASME), and Associate Fellow of the American Institute for Aeronautics and Astronautics (AIAA). He is also the recipient of the SAE International 2008 Forest R. McFarland Award.
Dr. Ahmadian is an active member of SAE International. His activities include: Member-at-Large of the SAE Membership Board, member of Executive Council, SAE International Commercial Vehicle Engineering Congress, and Chair of the SAE Chassis and Suspension Committee.
SAE International is a global association committed to being the ultimate knowledge source for the engineering profession. By uniting over 145,000 engineers and technical experts, we drive knowledge and expertise across a broad spectrum of industries. We act on two priorities: encouraging a lifetime of learning for mobility engineering professionals and setting the standards for industry engineering. We strive for a better world through the work of our charitable arm, the SAE Foundation, including programs like A World in Motion® and the Collegiate Design Series™.