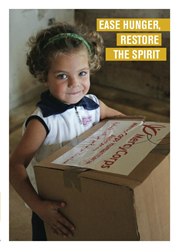 "With 60 different gifts to choose from, you can find the right match for everyone on your list."
Portland, Ore. (PRWEB) November 24, 2014
This season, give your loved ones the best conversation starter around the holiday turkey (or vegan meat alternative). Mercy Corps Gifts add a meaningful global connection, no matter what your family's holiday traditions, and make a difference in the lives of people and communities around the world.
"The holidays bring families together, but good conversation doesn't always follow naturally," says Dan O'Neill, Mercy Corps' founder. "With Mercy Corps gifts, you can open up a world of topics with your loved ones about some of the toughest challenges we face and, most importantly, the creative ways people are working to build a better life for themselves and their families."
Symbolic Mercy Corps gifts start as low as $18. Together we can protect a child by creating safe spaces to learn and play, teach a woman to read, so she can defend her rights and keep her family healthier, and provide emergency food and other supplies to families who have been displaced by war and conflict.
Shoppers can access the online Mercy Corps Gifts catalog and gift-generator tool to choose from among dozens of gifts and create a personalized full-color card for the recipient, which is also available electronically.
"With 60 different gifts to choose from, you can find the right match for everyone on your list, whether foodie, entrepreneur, sports enthusiast or the person who has everything," says O'Neill. "Start the conversation today and give your family and friends something worth talking about."
Last year alone, Mercy Corps helped 42.5 million people living in poverty and conflict around the world improve their lives. Shop the Mercy Corps gifts catalogue and place your order at gifts.mercycorps.org today. And when you've completed your shopping, enjoy our Mercy Corps Gifts video.
About Mercy Corps
Mercy Corps is a leading global humanitarian agency saving and improving lives in the world's toughest places. mercycorps.org.