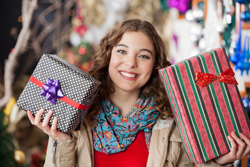 Today's shoppers expect to see modern technology in stores. Small business retailers with mobile POS, wireless networks or other appropriate customer-facing innovations will enjoy an advantage
Hoboken, New Jersey (PRWEB) November 25, 2014
eMazzanti Technologies, a NYC area IT security consultant and managed services provider (MSP), outlines a practical strategy for small retailers to incorporate emerging retail technologies in a new article.
"Today's shoppers expect to see modern technology in stores," stated Jennifer Mazzanti, President eMazzanti Technologies. "Small business retailers with mobile POS, wireless networks or other appropriate customer-facing innovations will enjoy an advantage."
Below are a few excerpts from the article "Holiday Shopping and the Internet of Things for Small Business Retail." Read the full article here.
The retail future that we glimpsed in the Tom Cruise movie Minority Report is starting to emerge, the article begins. Shopper recognition technology delivering personalized video messages is on the way. And major retailers are rolling out some cool new retail innovations for this year's holiday shopping season.
The Internet of Things (IOT), the technology behind most of the innovations, will add intelligence to endcaps, displays, shopping carts, vending machines, checkouts and packaging. All of it will connect via the Internet to hungry databases allowing retailers to collect big data and personalize the shopping experience for millions of shoppers.
Smaller retailers may be wondering if they will be left behind as the retail transformation accelerates. Knowing a good place to start can reduce the worry. First, let's see what's available or coming soon.
Look for these IoT technologies from the major retail technology players this holiday shopping season. Some are still concepts and some have been around for a while:

Emotion Detection - Discern shoppers' emotions, level of interest and intent to purchase.
Memory Mirror – Recognize customers to personalize the shopping experience.
Intelligent Coffee Bar - Dispensing the right product mix using brand promotion data.
Smart Media Carts – Dispense floor plans, directions, specials, product information, etc. from displays on carts to streamline the shopper's journey through the store.
Intelligent Vending - Wow shoppers with video, sensory stimulation, touch screens and engaging interactions to make buying a Coke a memorable experience.
The Internet of Things floats on a sea of hype. Forecasters foresee a vast economic impact, as much as $6.2 trillion annually, by 2025. With the holiday shopping season beginning, the question on every retailer's mind is, "Which options and technologies will resonate with shoppers and make a meaningful difference?"…
Where to start
Since half of shoppers start their research online, a website is essential. Today's site-building applications include eCommerce features and automatically create a mobile version of the site. So there is no reason not to have at least a basic site where a customer can complete a purchase.
The next best thing that a small retailer can do is to add Wi-Fi to make the store mobile friendly. Then shoppers will feel connected as they craft their own personalized shopping experience…
A wireless guest network is easy to install. But don't make the mistake of putting in consumer-grade equipment. If security, reliability and speed are lacking, shoppers will know, complain and tell their friends…
eMazzanti Technologies has installed and maintains wireless networks for hundreds of retail stores. With engineers trained on the latest network and mobile technologies retailers can expect a solution that will provide the essentials to start profiting from the Internet of Things.
Related resource information:
eMazzanti Delivers Worry-free IT Infrastructure and Security for KWI's Cloud-based Retail Platform
International Retailer Wows Customers with In-store Technology Solutions from eMazzanti
About eMazzanti Technologies
eMazzanti's team of trained, certified IT experts rapidly deliver cloud and mobile solutions, multi-site implementations, 24×7 outsourced network management, remote monitoring and support to increase productivity, data security and revenue growth for clients ranging from professional services firms to high-end global retailers.
Serving more than 400 Hoboken, NJ, NYC area and international customers, eMazzanti is Microsoft's 2012 Partner of the Year and 2013 Northeast Region Partner of the Year, a 5X WatchGuard Partner of the Year and has made the Inc. 5000 list five years running. Contact: Carl Mazzanti 201-360-4400 or emazzanti.net Twitter: @emazzanti Facebook: Facebook.com/emazzantitechnologies.
Download the free article: How to Select an IT Provider here.