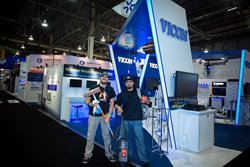 Tustin, CA (PRWEB) November 24, 2014
Twice annually, 60,000+ dedicated fashion industry insiders meet in Las Vegas to shop and celebrate style. The most comprehensive collection of men's, women's, juniors and children's apparel, footwear, accessories and resources in one city appear in ten individual shows: Project; The Tents; ENK Vegas; Men's: Pool Trade Show; WWD MAGIC ;FN Platform; WSA Magic; Playground: and Sourcing Magic. With 85 years of experience and attendance from over 120 countries, MAGIC moves fashion forward globally. From the fabric to the finished product, the hottest brands to the top designers, and the tastemakers to the power buyers, if it's fashion, you'll find it at MAGIC.
Magic opens February 17-19, 2015 in Las Vegas at the Las Vegas Convention Center and the Mandalay Bay Convention Center and will have 60,000 + attendees and thousands of apparel lines represented by exhibitors from over 100 countries. Over $200 million dollars in business is written everyday at the Magic show.
Absolute I&D, a trade show installation & dismantle company, has serviced clients for over a decade at MAGIC and the supplementary shows it covers. Installing exhibits for many country pavilions from Brazil to Mexico, and Taiwan to India, It takes a skilled and trained trade show labor company to move in and out of a multi-tiered venue such as MAGIC and that is where the Absolute I&D team performs at its highest. Now it is time to help the exhibitors. Every independent exhibitor that signs a contract by December 15, 2014 with Absolute I&D will receive the same pricing as a distributor. It is as simple as that. All exhibitors will receive distributor pricing for PMA. I&D Quote Request.
If you represent a clothing or shoe line and you do not attend MAGIC – you are missing the game!
About Absolute I&D Inc.:
Absolute I&D, Inc., headquartered in Las Vegas, Nevada, with site offices across the country, offers supervised labor resources at trade shows, for corporate programs, and on consumer road tours. Absolute I&D Inc. is committed to providing clients the highest level of skilled labor, experienced project managers, and impeccable customer service. Signatory to union contracts in fifteen major trade show venues cross the USA and lead personnel will be flown to any other city necessary to meet client needs.